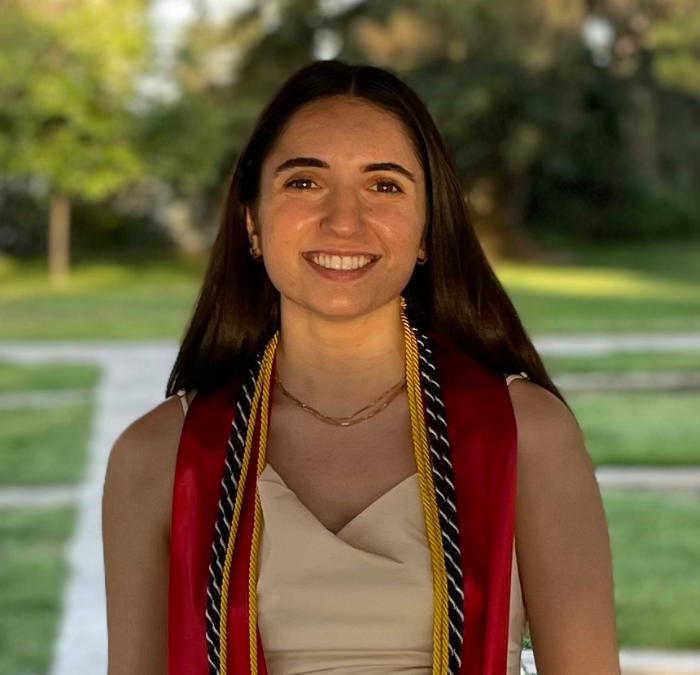 First-generation student Sherly Yaghoubi takes responsibility for her own actions. She said she has learned a lot at Stan State but the most powerful tools she has acquired are the importance of being self-reliant and utilizing resources.
"It is really up to you to stay on top of getting your work done, planning your degree schedule or getting your financial aid worked out," she said. "Of course, there are always resources to help, but they will not show up out of nowhere. You need to go after them yourself."
As a first-generation student at Stan State, Yaghoubi didn't really know how to manage her time, how to study for classes or how to build connections.
"I definitely stumbled a lot my first year, and it took time to settle into a routine that worked for me. But now I am graduating with two bachelor's degrees, and I am going into a master's program," Yaghoubi said.
Yaghoubi chose to attend Stan State because it was close to her Turlock home, and it was the best option financially. What she would tell other students considering Stan State is that it also offers amazing support from faculty and staff.
"There is a sense of community at Stan State that larger schools do not have, and you can feel that your professors truly want you to succeed," she said.
In the future, she plans to pursue a master's in computer science and hopes to work as a data scientist
#StanGrad File
Degree/Credential
Bachelor of Science in Computer Science and Bachelor of Science in Mathematics
What memories stand out most from your time at Stanislaus State?
"Working for the Educational Opportunity Program (EOP) and for the Department of Mathematics. I got to meet so many amazing staff members and faculty through these positions, and I got to see a different side to the University not every student gets to see. Working on campus and learning about the little secrets hidden around the school helped me feel more connected to Stan State."
Which faculty or staff member had the greatest impact on you, and why?
"I have two; Dr. Jessica De Silva inspired me greatly in my decision to go to grad school. As a freshman, she helped me find research opportunities while adjusting to campus. She pushed me to get involved in on-campus programs like LSAMP (Louis Stokes Alliance for Minority Participation) and Cal-Bridge and helped me through the application process for grad school. She also helped me find my interest in data science. More than that, she is one of my biggest supporters and helped me feel like I belong in STEM. My EOP Advisor, Libby Pata, also has had a great impact on me. She supported me as I dealt with the stress of being a first-generation student. She celebrated my accomplishments, even my small ones, in large ways that motivated me to keep working toward my goals."
What advice would you give to current and future students?
"Get involved! You are doing yourself a disservice by not joining clubs and programs that are designed to support you. This is where you will meet so many amazing people, including friends and advisors. Build your network; it will help you professionally and socially."
---
Note: This article is part of the StanGrad series highlighting Stanislaus State students who are part of the Class of 2023. Read more StanGrad profiles.