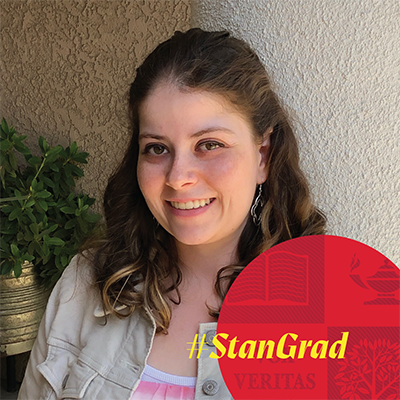 When we began using #WarriorStrong at Stan State, we may have been thinking about Bethany Harper.
The 4.0 student who is graduating with dual Bachelor of Arts degrees in English and history, started college a semester late, because she underwent major surgery after graduating from Modesto's Beyer High School.
She didn't let that, or her spina bifida, "a disability that affects pretty much everything below my waist," slow her down once she arrived at Stan State.
Walking can be difficult, so if she needed a cart to transport her from class to class, she gratefully called on Disability Resource Services to provide it.
"When I was new to Stan State, I remember not feeling completely comfortable with the campus and how to get to places," said Harper, who chose Stan State because it was close to home and because her brother had enjoyed attending the University. "Everyone was so kind helping me figure out where I needed to go."
Once she figured out the campus geography, it was a matter of mastering the coursework to earn degrees in two majors.
"I am always nervous when I walk into a new class each semester, but the faculty and the students have been encouraging, helpful and welcoming," Harper said.
She put in the hard work she encourages others to undertake to complete her double major and has her sights set on teaching American history.
"Her attitudes are a true inspiration to me and to many others," said Emeritus Professor of History Richard Weikart.
She connected with Weikart's teaching style and their shared faith, Harper said.
Her time at Stan State deepened her own resolve and beliefs.
"You should stand up for what you believe in; don't compromise for anyone else," Harper said. "Everyone may be telling you something different than what is right, but don't be afraid to stand up for truth."
She'll take that philosophy forward as, inspired by Weikart's teaching, she begins her path toward becoming an American history teacher.
Harper already has begun an online Master of History program at Liberty University.
#StanGrad File
Degree/Credential
Bachelor of Arts in History and English
What memories stand out most from your time at Stanislaus State?
"I remember sitting in the lobby of the Library eating lunch and chatting with one of my best friends. We did not have the same classes or the same majors, but we were able to share about our class experiences, laugh and de-stress as we waited for our next class to start. One particular semester I had classes at night, and I remember seeing the campus from a different perspective during the night. Yes, everything was dark, but the campus was so beautiful. It is beautiful during the day, but at night it is gorgeous as well."
Which faculty or staff member had the greatest impact on you, and why?
"Dr. Weikart from the History Department has been the most influential. I first met him in a general education class, but I remember he had a profound influence on me because of his faith, boldness in sharing it, and his knowledge as well as great communication skills. Throughout the years, I ended up having many more classes that were taught by him and he helped me want to become a history professor even more than I wanted to when I started college."
What advice would you give to current and future students?
"I would tell them to work hard despite any difficulties. The best things in life require hard, HARD work. The most powerful thing that got me through the difficulties in my college career was my faith in Jesus Christ. Being able to serve something greater than yourself brings much more meaning into all aspects of life."
---
Note: This article is part of the StanGrad series highlighting Stanislaus State students who are part of the Class of 2021. Read more StanGrad profiles.