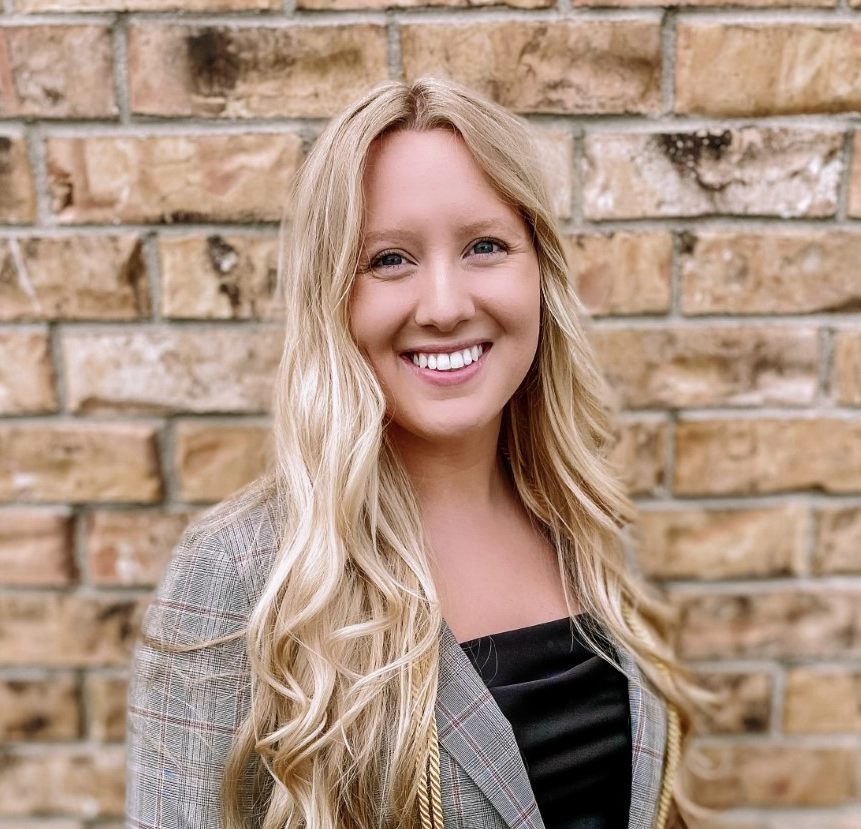 Though he happily nominated Caitlin Schwartz, who will graduate with a Bachelor of Science in Biological Sciences, as a #StanGrad, Professor Mark Grobner is no doubt sad to see the 4.0 student leave Stanislaus State. 
"Along with her outstanding academic record, Caitlin was involved in many K-12 outreach programs, both as an officer of the Warrior Chemistry Club and a volunteer for Science in Our Community," said Grobner, the professor of biological sciences who spearheads much of the department's community outreach. "While secretary of the 2020-2021 Warrior Chemistry Club, the club received an Outstanding Chapter Award from the American Chemical Society for its outreach work. She also provided virtual activities for the annual 2021 Science Day along with volunteering for a number of Science Saturday and Junior Scientist events." 
The activities, along with her job in the Career and Professional Development Center (CDPC) for four years kept Schwartz busy, but she said she will always carry happy memories of her Stan State years. 
"Through the CPDC and the Warrior Chemistry Club, I had the opportunity to connect with and get to know many of my peers as well as staff and faculty members,"  
Schwartz said.  
"I attribute much of my positive experience at Stan State to my involvement in the CPDC and WCC. College becomes a lot less daunting when you are surrounded by a supportive group of people in a healthy environment. The faculty and staff at Stan State are unparalleled in my opinion." 
Schwartz, who earned a minor in chemistry, succeeded in the demanding biological sciences major and now hopes to attend dentistry school. Whether her hoped-for career returns her to this area is unknown, but a part of her will remain with the University. 
"I am eternally grateful to Stan State for all that it has given me and will always consider it a part of my community," Schwartz said. "As an alumna of the University, I look forward to giving back to Stan State, because it has given me so much. Truthfully, I don't know where I will settle down after dental school. However, I do know that wherever I reside, my goal will always be to serve the needs of my community. I hope to help expand access to dental care and increase the overall oral health of my community. Outside of dentistry, I'm passionate about advocating for survivors of abuse."
#StanGrad File
Hometown
Mandan, North Dakota
Degree/Credential
Bachelor of Science, biological sciences
What memories stand out most from your time at Stanislaus State?
"One of my favorite memories is volunteering in the microbiology lab on Science Day. Having the opportunity to share my love of science (especially microbiology) with the younger members of our community was a special experience for me. A core favorite memory of mine is the time I did a presentation with my fellow Warriors Chemistry Club officers at the American Chemical Society (ACS) Conference in spring 2021. My favorite memories were typically made with my classmates in the Naraghi Hall of Science and my coworkers in the Career and Professional Development Center. Those two places were where I spent the majority of my time on campus. I will always look back on the late-night study sessions in Naraghi, days at the Career Center, and all of the chemistry club events with fondness."
Which faculty or staff member had the greatest impact on you, and why?
"There are multiple professors who have had a substantial impact on me. One such professor is Dr. Jamila Newton, who taught the cellular and molecular biology course that I took as a sophomore. I quickly grew to admire and respect her intelligence, passion for biology and commitment to helping her students succeed. She became a mentor and inspiration to me throughout the rest of my time at Stan State.  
"Another faculty member who has had a substantial impact on me is my microbiology professor, Dr. Choong-Min Kang. I had the privilege of taking several courses with Dr. Kang. Through those courses and our own interactions, I learned a lot about life and science. I am grateful to Dr. Newton and Dr. Kang who both took the time to invest in my professional and educational success. I am also grateful to the incredible faculty of the chemistry and biology departments who I have had the privilege to learn from in these past four years. Every single one of them has had an impact on me."
What advice would you give to current and future students?
"My advice to current and future students is to go after what you want. Work on developing a growth mindset. Build positive relationships with your peers and professors. An easy way to do this is by attending supplemental instruction sessions and office hours. Find a mentor who is willing to invest in you and your success. Get involved on campus by joining a student organization that aligns with your interests. If you're looking for a way to earn a wage while in school and capitalize on your time, I highly recommend getting a job on campus. And most important of all, advocate for yourself!"
---
Note: This article is part of the StanGrad series highlighting Stanislaus State students who are part of the Class of 2022. Read more StanGrad profiles.