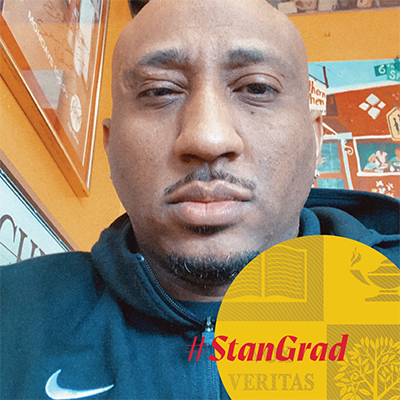 Diondre Hawthorne was in the wrong place at the wrong time when he was a senior at Edison High School in Stockton. A fight broke out at a party, weapons were drawn, and a bullet grazed his face. The accident ended his final high school basketball season.
Nearly 20 years later, Hawthorne is in the right place at the right time.
He's finally completed a circuitous college education with a Bachelor of Arts in Gender Studies from Stan State and as Edison's boys' basketball coach, is working to keep students from ending up in the wrong place.
"I'm here to be a father figure to some of these boys that don't have that," Hawthorne told The (Stockton) Record when he was hired in April 2019. "I want to help kids stay off the streets, make more positive choices in their lives and get into college."
That work inspired him to return to college, choosing Stan State because of its Stockton Campus and the fact his mother is an alumna of the University.
"I'm seeing kids I coached graduate from college," Hawthorne said. "I'm preaching and preaching about school, and I don't have a degree yet, and I said, 'I'm not going to allow myself another year of having kids I coach graduate before me.'"
Hawthorne hoped to study kinesiology at Stan State, but by the time he set his mind to completing his college education, he had a full-time job, was the girls' basketball coach at Edison, and had a daughter to raise. He needed to take classes at night and online.
"I really liked the psychology part of gender studies," Hawthorne said. "Learning about the brain and how it interacts really helped me. That's why I wanted to go into that major. I wanted to learn about people, how they think and act and respond to situations."
Pursuit of a teaching credential or master's degree may be in his future, but he has a lot to juggle between coaching, working as a special education paraeducator at Edison and raising his daughter, Brielle, now 9, and 2-year-old son, Diondre Hawthrone Jr., and serving as a foster parent to a 16-year-old boy.
"Diondre is a study in perseverance," said Gender Studies Professor Betsy Eudey. "He attended several different colleges before coming to Stan State's Stockton Campus. It was a challenging route to completing his degree, but he continued with it and will now graduate. Working as a coach for Stockton Unified School District, he's a great role model to his students, especially as a Black educator pushing through challenges to reach his goals."
#StanGrad File
Degree/Credential
Bachelor of Arts in Gender Studies
What memories stand out most from your time at Stanislaus State?
"The new-student orientation. Everyone was so welcoming to new and transfer students."
Which faculty or staff member had the greatest impact on you, and why?
"Betsy Eudey and Joy Vickers. They pushed me and kept me focused and motivated to continue and finish my degree. Joy helped me figure out a way to earn a degree with online and night classes. Betsy is amazing. Anytime I needed something, she was there for me. I never felt when asked her I was bothering her. She made me feel welcomed. People say, 'I'm here for you,' but she meant it."
What advice would you give to current and future students?
"Don't take breaks. Stay on pace and finish strong."
---
Note: This article is part of the StanGrad series highlighting Stanislaus State students who are part of the Class of 2021. Read more StanGrad profiles.