Note: This article is part of the StanGrad series highlighting Stanislaus State students who are part of the Class of 2017. Read more StanGrad profiles.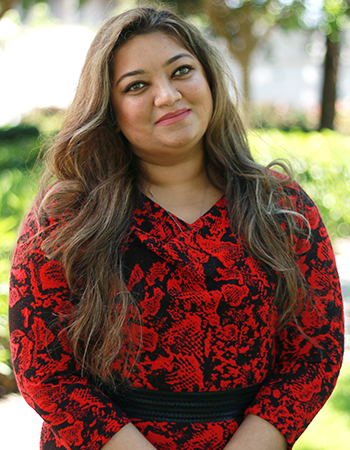 Ashika Sen doesn't take her education for granted. She knows her opportunity is a blessing; her father had to leave school early to contribute to the family financially by working on his grandfather's farm in Fiji.
"I consider myself to be very blessed and privileged to be given the opportunity to attend university in this beautiful country," Sen shared.
It was the opportunity for a better life for their children that encouraged Sen's parents to move her and her sibling to the U.S. Settled in the Central Valley, she saw the impact the Great Recession has had, but she also saw an opportunity to enact positive change.
"I owe my parents everything that I have accomplished," Sen said. "I wouldn't have reached my goals had I not had a strong, supportive family and friends in my life. I want students to know what a great privilege we have to get an education in this country."
Like her father, who bridged his own education gap by learning to read and write English through reading the newspaper every day, Sen was encouraged to pursue other subjects in school outside of her business degree (she received her bachelor's degree at Stan State and will graduate with her master's this year.)
"I wanted to know more about astronomy, so I reached out to the College of Science and asked them about events I could attend," Sen said. "As a result, I now visit their Observatory Night. I would've never visited had I not reached out to them."
Pursuing her master's in business at Stan State, Sen's dream is to open her own business in the Central Valley.
"I would like to hire and manufacture locally if I open my own business," she said.
---
#StanGrad File
Degree/Credential
Master of Business Administration with a concentration in finance
What memories stand out most from your time at Stanislaus State?
"Some of the memories that stand out most to me are interacting with my classmates on and off campus. I attended various theater performances in the University Amphitheater, and I attended basketball games. My favorite event was last year when I went to see the Golden State Warriors break the NBA record (by winning 73 regular-season games) that was sponsored by ASI."
Which faculty or staff member had the greatest impact on you, and why?
"I would like to thank all the staff and professors who work in the College of Business Administration and in the MBA office. They know who I am; I've visited them more than I should. I want to thank them for all they did for me."
What advice would you give to current and future students?
"I know everyone is very busy with work and school, but I would recommend investing as little as 20 minutes on campus reading the bulletin board for upcoming events, speakers and networking opportunities held on campus."