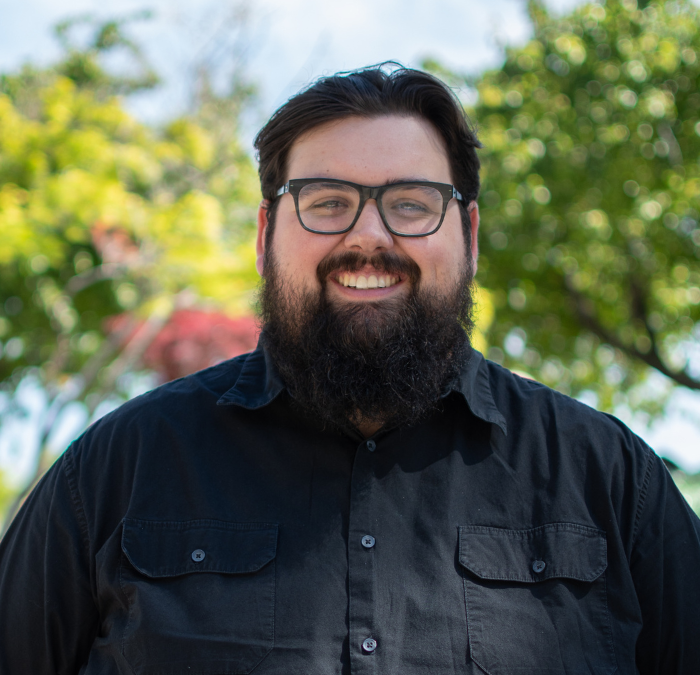 His time on the Stanislaus State campus was cut short by required distance learning, but transfer student Austin Evans nonetheless leaves with precious memories. 
 "Coming to campus for the first time at the end of my junior year was an interesting feeling," he said. "I felt like I was just starting a journey, but I could also already see the finish line. That was bittersweet, as I actually enjoyed the feel of being on campus at Stanislaus State. The new Library and Student Center seemed like great places I could get lost in if I was on campus for four years. The accessibility a student has to resources, study areas, computer access and academic help is unrivaled here." 
The transfer student from Modesto Junior College made the most of his time, having landed on a geography major after trying several majors before arriving. He wasn't disappointed. He speaks glowingly of the faculty in the Department of Geography and Environmental Resources who inspired him from the start, even as they adjusted to online teaching. They helped shape his goals. 
"I plan to use my degree to teach high school students," said Evans, who served as an assistant football coach at his alma mater, Gregori High School, while earning his degree. "I want to advance their thinking and open them up to the world of geography. Geography is a subject that is taught in most other regions of the world but is not a subject in secondary schools in the United States. I would love to introduce them to this way of thinking and looking at the world around them." 
Having graduated in the fall with honors, Evans is enrolled in Stan State's single-subject credential program and will be a student teacher at Gregori in the fall, where he plans to continue coaching football. 
"I am excited for the opportunity to impact the community I call home," Evans said. "I aim to be a great educator in the classroom, and a great coach on the field. I enjoy working with adolescent youth, and I aim to be a great role model for these students. I strive to bring my geographic knowledge and mindset into social science. This perspective is often overlooked, so I plan to integrate it into my lessons as a teacher." 
With what Peggy Hauselt, professor of geography and chair of the Department of Anthropology and Geography/, Environmental Resources, calls his thoughtful, humorous and well-spoken manner, Evans could inspire students to follow his path. 
"There is a commonality among many geography students," he said. "They did not start as a geography major, but switched as soon as they took a geography class. If I could introduce this topic and get students involved sooner, it would bring about a new generation of geographers.  
"Living in the Central Valley, agriculture is all around us. Geography is an integral part of agriculture. This way of thinking goes beyond just what we can learn in a classroom. It can be used in all parts of life." 
#StanGrad File
Degree/Credential
Bachelor of Science in Geography and Environmental Studies
What memories stand out most from your time at Stanislaus State?
"Most of my memories of Stanislaus State were in the classroom Library Annex 2. This is the main computer lab of the geography program. Each semester, I would have a class there and would generally sit at the same desk each time. It became the norm for most geography students at Stanislaus. We all know that LX2 is where the magic happens for geography students.  
"The geese on campus might have to be the most memorable thing.  They are symbolic mascots for students." 
Which faculty or staff member had the greatest impact on you, and why?
"The geography program at Stan State has great individual professors and thinkers. The faculty who had the greatest impact on me were Dr. Augustine Avwunudiogba (Dr. Austin), and Dr. José Díaz-Garayúa. They are two men who are from outside the United States (Nigeria and Puerto Rico) who are well respected educators, researchers, and thinkers in the field of geography. Taking multiple classes with these two professors broadened my scope of thinking. They taught me how to study, think, operate, and learn through the lens of geography.  
"Beyond education, I had some of the most in-depth and personal conversations with them. They were always willing to show the students their humanity and personality in the classroom. It made learning a breeze, as they would always be there for their students." 
What advice would you give to current and future students?
"My advice to students is to make sure you are where your feet are. This means to really take in the experience every day, without taking it for granted. Make the most out of your opportunity to learn, to make new friends, and to enjoy the experience of being a college student." 
---
Note: This article is part of the StanGrad series highlighting Stanislaus State students who are part of the Class of 2023. Read more StanGrad profiles.