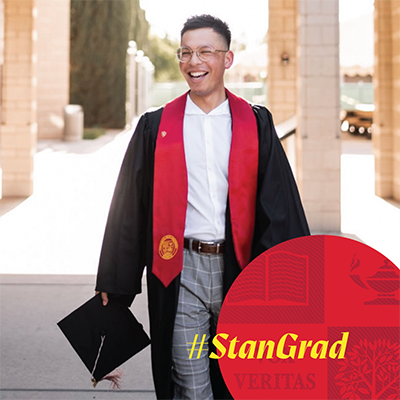 Serving the community is nothing new to Adrian Covarrubias and his family, as his parents are proud restaurant owners. Covarrubias is looking to keep the family tradition going and he plans to use the skills he learned as a communication studies major to open his own restaurant, Table 59, serving American-Italian food in his hometown of Merced.
While studying full time at Stan State, Covarrubias gained experience in the restaurant industry by working full time at his parents' restaurant.
"Being a full-time student, a full-time worker at my parent's restaurant, and still trying to juggle a social life on top of planning the opening of my own restaurant must be one of the hardest things I have done so far," said Covarrubias.
"It is extremely stressful," he added. "However, having the motivation and drive keeps me going. People have said I am too young to open a restaurant and that it's a lot of work, but if you surround yourself with positive people, everything and anything is possible."
As a first-generation student from the region, Covarrubias knew that Stan State was the right school for him.
"I chose Stan State because it was close to home," Covarrubias said. "I loved how the class sizes were small, which gave me more opportunities to talk to my professors, and most importantly, they have a great communication studies program."
A bachelor's degree, Covarrubias said, will help him in his new endeavor within the restaurant industry.
"As the newest and youngest restaurant owner in Merced County, I am excited to implement new and fresh ideas," he said. "I am excited to utilize my degree right after college by demonstrating my public relations skills, organizational skills, research skills, digital marketing skills and event planning."
Covarrubias hopes that this is not the end of his educational journey, and he plans on returning to school within the next two years to obtain his master's degree in mass communication.
#StanGrad File
Degree/Credential
Bachelor of Arts in Communications Studies with a focus on public communication and media
Which faculty or staff members had the greatest impact on you, and why?
"Dr. Biedendorf and Dr. Chvasta. Their passion for teaching has made me want to obtain a master's degree in mass communication. Before the opportunity to be a restaurant owner, they were helping and guiding me toward graduate school. They believed in me when I had doubts, and they encouraged me because they saw my dedication and drive when I didn't."
How do you plan to use your Stan State degree to advance and/or improve life in our region?
"I plan to use my Stan State degree by contributing my knowledge and skills to give back to my community."
What advice would you give to current and future students? 
"Don't give up! You will have days with no motivation, and that's okay; it's part of life. Find your purpose and let that be your drive. And above all, don't procrastinate."
---
Note: This article is part of the StanGrad series highlighting Stanislaus State students who are part of the Class of 2021. Read more StanGrad profiles.