Tenor Luca Mitchell of Riverbank, studies Vocal Performance in the Department of Music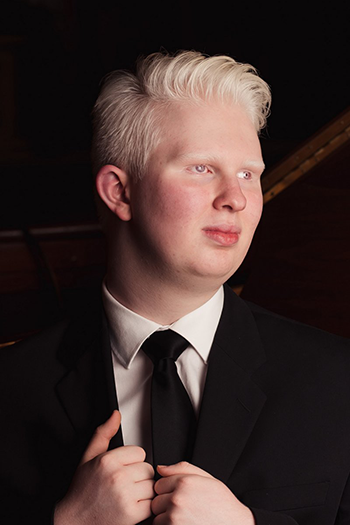 The spring semester is ending on a high note for Stanislaus State tenor Luca Mitchell. The sophomore and music major studying vocal performance won first place in his category for the 2021 Kristina Townsend Memorial Vocal Competition.  
Mitchell, of Riverbank, won the age 16 to 19 category. Mitchell made his professional solo opera debut in the role of Mr. Rushworth in the 2020 Opera Modesto U.S. orchestral premiere of "Mansfield Park."  
He performs with the Stan State Chamber Singers and Concert Chorale ensembles and is also an accomplished pianist and composer.  
"During his time as a vocal performance major, Luca has distinguished himself as one of our leading singers in the voice area. He is a terrific student and a conscientious young artist, and his incredible work-ethic and winning personality make him a joy to work with," said Professor Joseph Wiggett. "His first-place win in a major regional competition is a testament to his dedication to his craft. He certainly does our department, and Stan State, Warrior proud!" 
Department of Music chair David Chapman said he is delighted to hear about Mitchell's success.
"Mr. Mitchell enrolled in my Music of World Cultures course in fall of 2019 and was a brilliant asset to the class," Chapman said. "His creativity shone through, and he came across as a team-worker and overall talented young man."   
The annual Townsend Memorial Vocal Competition is designed to encourage and inspire emerging talented young singers and honors the memory of Kristina Townsend, daughter of Erika and Buck Townsend, founder of Townsend Opera Players (now Opera Modesto).
Watch Video: Opera Modesto Kristina Townsend Memorial Vocal Competition First Place Winners 2021