Esteban Montenegro Fueled by the University's 'Power to Do More'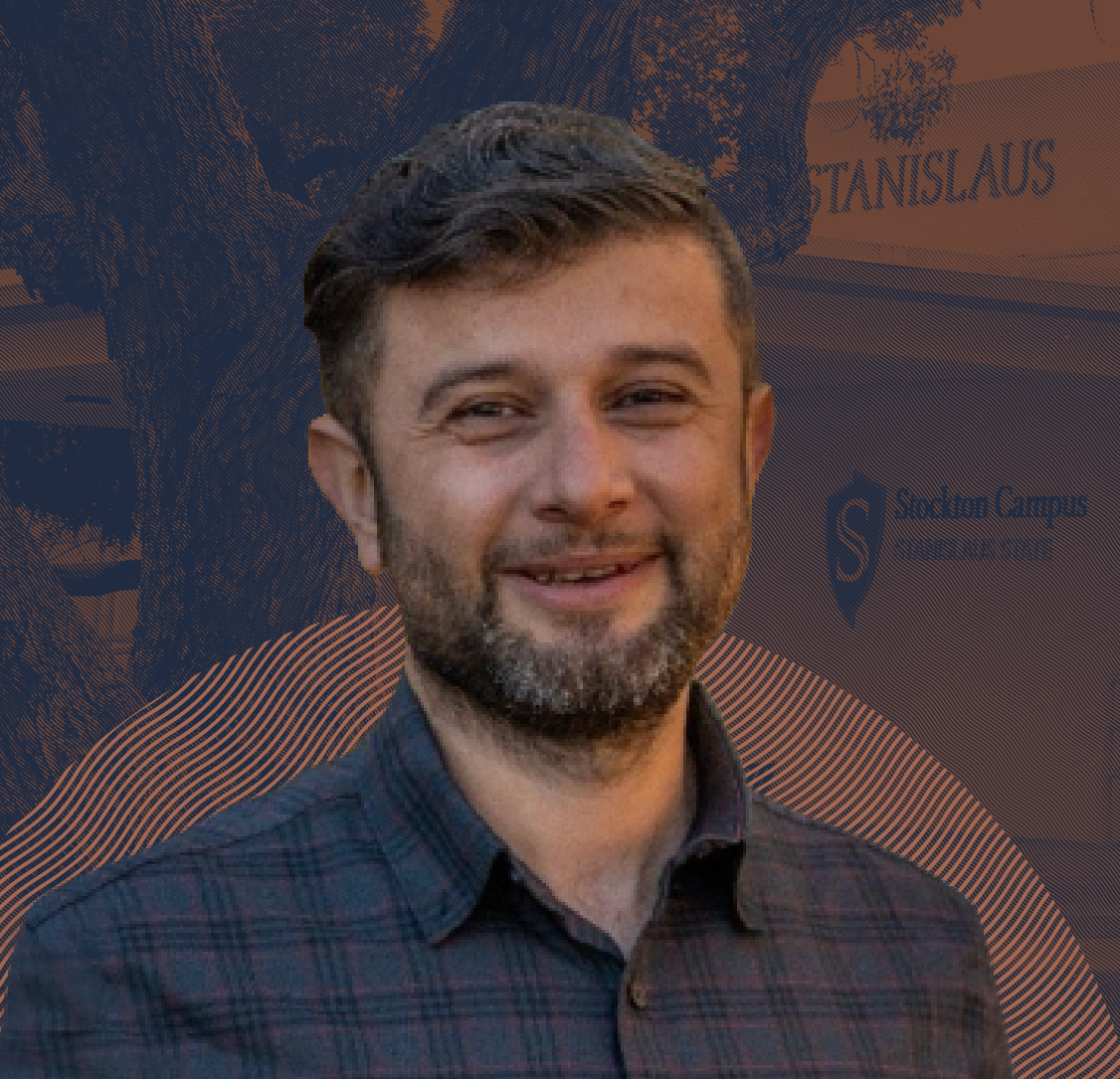 When he applied for a full-time tenure-track teaching position in Stanislaus State's Department of Psychology, Esteban Montenegro thought Stockon was a building on the Turlock campus. 
Montenegro had been working on Alzheimer's research at UC Davis since completing his Ph.D. at Texas Tech University, when his wife of nearly a year, Sofia Brizuela-Obando, was hired to teach education in the agriculture program. 
"I was living in Walnut Creek and working at UC Davis and never had a chance to drive through the Central Valley," Montenegro said.  
After his wife was offered the Stan State position, he saw an opening for a psychology professor and applied. 
"They were looking for psychologists and generalist psychologists. The posting was written in such a way that they wanted what you to bring your expertise," Montenegro said. "When I interviewed, everyone was so friendly, and I felt so welcome." 
It wasn't until he was offered the position – bringing experience with statistical data in cognitive psychology – that he learned he'd be teaching at the Stockton Campus, but Montenegro has embraced his role there as one of five new full-time tenure track faculty members. 
His first semester is different from that experienced by his wife, who is teaching on the Turlock campus. 
"I realize now Stockton is a population that is even more special," he said. "My students are working-class. They struggle while working three jobs to try to finish their academic career." 
He has young transfer students from San Joaquin Delta College, but Montenegro also speaks reverently about one outside that category. 
"I have a student who is Hispanic, and she has two jobs," Montenegro said. "She's 50 years old trying to get her bachelor's. I tell her she is amazingly brave. It's inspiring to see people like her, people who don't give up. I love that. Of course, I wish they didn't have to be such an example. I wish they'd had a chance to get a bachelor's when they were in their 20s, but they couldn't. Life is hard. Society is hard. Society imposes a lot of constraints on your life, depending on where you were born, how you were born and many things in your life." 
Esteban Montenegro, Assistant Professor, Department of Psychology
---
Culturally, Stockton is a long way from Davis, or even Lubbock, Texas, a college town that loved the presence of Texas Tech. It's also a great distance from his native Costa Rica. His upbringing there enables him to easily adapt to unexpected circumstances.  
What he's experiencing as he brings his expertise in statistics to Experimental Methods and Design as well as to Research Seminar in Social Psychology is the flexibility of his department and a hope for future possibilities. 
"In Stockton I can see opportunities to do a lot of things," said Montenegro, who envisions more psychology courses being offered at the Stockton Campus, including expansion of his own offerings in scientific research methods. 
One goal is to open a lab and use quantitative methods specializing in cognitive aging. In Costa Rica, he worked in the field of healthy aging and would like to return to it, offer a course in it. 
Specifically, he's concerned with healthy aging in the United States, where race is a key contributor. 
"I'm probably going to focus more on Hispanics," Montenegro said. "It's more convenient for me, because I'm Hispanic and because Hispanics suffer a lack of access to health care. They struggle to find resources and get medications that we know help prevent dementia." 
Additionally, he hopes to expand his statistics-based research within psychology. 
"I hope the department allows me to open a concentration in research methods, something more focused on statistics," Montenegro said. "Jobs are there for people with these skills. I believe people in Stockton will have a better chance for a job if they know how to do some basic steps in stats." 
Although he settled in Turlock with his wife — who is expecting their first child, a daughter, Emma, due in March— he has other ideas that will further connect him to Stockton, 
"What I want to do in Stockton is some sort of intervention for healthy lifestyles with African Americans," Montenegro said. "I need to apply for grants.  I need to bide my time. I need to figure out my time to focus on things like this. 
"Academia cannot be in a bubble thinking we have all the research and all the truth in the world. I believe we are an institution that has the power to do more. I've been scanning the area thinking about what I can do in research and intervention." 
Beyond expanding psychology work in Stockton, Montenegro has connected with Matthew Derrick, also new to the Stockton Campus and named director of the newly established social science program. 
"We have some projects in mind," Montenegro said. "There are lots of things to do." 
Among them is building the Stockton Campus community.  
"In the Department of Psychology, I feel it," Montenegro said. "I still need to engage with colleagues from other departments. I want to work with Matthew and other colleagues in criminal justice, because they have other projects. 
"Also, there are older Hispanic faculty involved in the community. I have approached some of them, and some of them are friends, now. It's growing, that feeling of being a team, which is the most important part of an organization, regardless of what type of organization you're in. That feeling of being a team and working toward similar goals. It's getting there." 
Now that he's found Stockton, Montenegro is entrenched, and he eyes a brighter future as the campus, and its potential influence, grow with its expansion.