Coordinator of Stan State's Male Success Initiative to be Honored Nov. 14 During Virtual Award Ceremony
Two years after becoming the founding coordinator of Stanislaus State's Male Success Initiative (MSI), Miguel Jimenez has been selected as this year's recipient of the NASPA Region VI Dorothy Keller New Professional Award.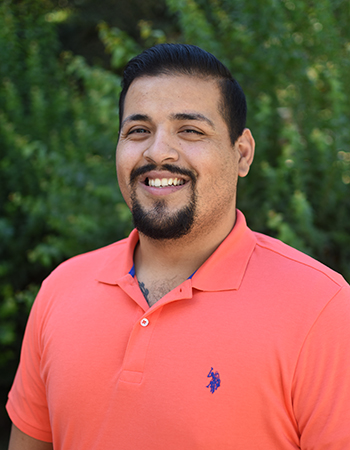 The award is presented by the organization of Student Affairs Administrators in Higher Education. A virtual award ceremony is planned for Nov. 14 during the Region VI conference in Anaheim. 
"I am so incredibly honored to have been selected as the recipient of the NASPA Region VI Dorothy Keller New Professional Award," Jimenez said. "I wouldn't be here today without the immense support and guidance from mentors, the colleagues I work with and most importantly the students I have the privilege of working with. We have accomplished so much in such a short period of time and this award reflects the collective effort and passion for student success at Stan State." 
Jimenez began MSI within the Warrior Cross Cultural Center in summer 2020, during distance learning. He managed to engage and support men of color through a variety of virtual support programs. 
"In the two plus years Miguel has been in this founding role of the Male Success Coordinator (all of which has been during the pandemic), he has created a dynamic, data-driven, responsive program engaging more than 3,000 men, surpassing all expectations with his remarkable success," said Stan State Vice President for Student Affairs Christine Erickson. "Miguel is an expert presenter, seamlessly moving from student spaces to cabinet level presentations. His skills and his humble, genuine, supportive and positive way of being are extraordinary; he exhibits 'career maturity' beyond even some seasoned managers." 
Erickson, Dean of Students Heather Dunn Carlton and Jimenez's professor and mentor in Fresno State's Department of Higher Education, Susana Hernández, collaborated on the nomination. 
"I am moved by this award, as Region VI — which includes New Zealand, Arizona, Australia, California, China, Guam, Hawaii, Hong Kong, Malaysia and Singapore — is the largest region of NASPA," Jimenez said. "I am proud to be a Stan State Warrior and grateful to have the opportunity to work for such an amazing institution. This award centers me and encourages me to keep advocating for and supporting our amazing students!" 
NASPA's stated mission as a professional organization dedicated to student affairs is to drive innovation and evidence-based, student-centered practice throughout higher education, nationally and globally. It is dedicated to fulfilling the promise of higher education through its guiding principles of integrity, innovation, inclusion and inquiry.