Nursing and social work students are benefitting from Stan State's first collaborative simulation learning experience. 
Initiated and implemented by nursing professor Mary Jo Stanley and social work professor Sevaughn Banks, the simulated exercises bring together students from both areas of study to interact as they would professionally in the workplace.
"The goal of the simulation is to ensure that nursing and social work students have the skill sets they need before they graduate," said Banks. "This means they need to fully understand safety procedures and exhibit interprofessional competencies, like communication, engagement, collaboration and teamwork."
During a simulation, social work and nursing students care for either standardized patients, who are paid student actors, or high-fidelity patients, programmable manikins that can exhibit common medical symptoms. Each set of students spends 15-20 minutes with one or the other patient type. The simulations are video and audio recorded, and the social work department hires career professionals to analyze student performance.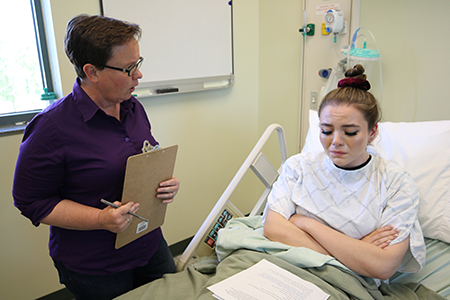 Stanley and Banks emphasize that the focus of the exercise is purely on learning and improving skills through constructive feedback.
One of Banks' students, Genifer Wayrynen, was originally nervous to participate in the simulation with professionals watching and analyzing her actions, but as a result of the experience she has become more interested in simulation research. 
"I felt confident that all students could benefit from this experience after the debriefing from the first simulation because I was able to get specific feedback on my skills as a practitioner from other respected professionals in the field," said Wayrynen.
Wayrynen expanded her participation into a thesis project titled, "A Pilot Study of Simulated Learning Experiences: A Comparison of Social Work Students' Engagement Skills with High Fidelity Patients and Standardized Participants."
Not only does the simulation give students the skills and confidence they need to succeed in the workplace, but it also helps nursing and social work professors learn the most effective ways to teach. The competencies students demonstrate in the simulation experience are embedded in related practice courses. For example, Banks realized more soft skills need to be taught in social work classes, and Stanley is ensuring psychosocial issues are addressed in nursing clinical and theory classes.
Last year, Stanley and Banks published a manuscript in the Journal of Nursing Education in which they concluded that interprofessional collaboration improves patient safety and outcomes. They also wrote about their goals for future simulations.
"Future collaboration includes learning about respective professional roles, more direction regarding the professional handoff, and prior exposure to the appearance and functionality of high-fidelity patient types in an effort to establish best strategies for partnership," according to Stanley and Banks.
But what Stanley and Banks say they look forward to the most is seeing students grow from the experience.