Project Aims to Bring Growth to Company's Expansion
Faced with a need to increase the profitability of his new endeavor, local business owner Hermanta Agarwala turned his marketing challenges into learning opportunities for a class of Stanislaus State Master of Business Administration students.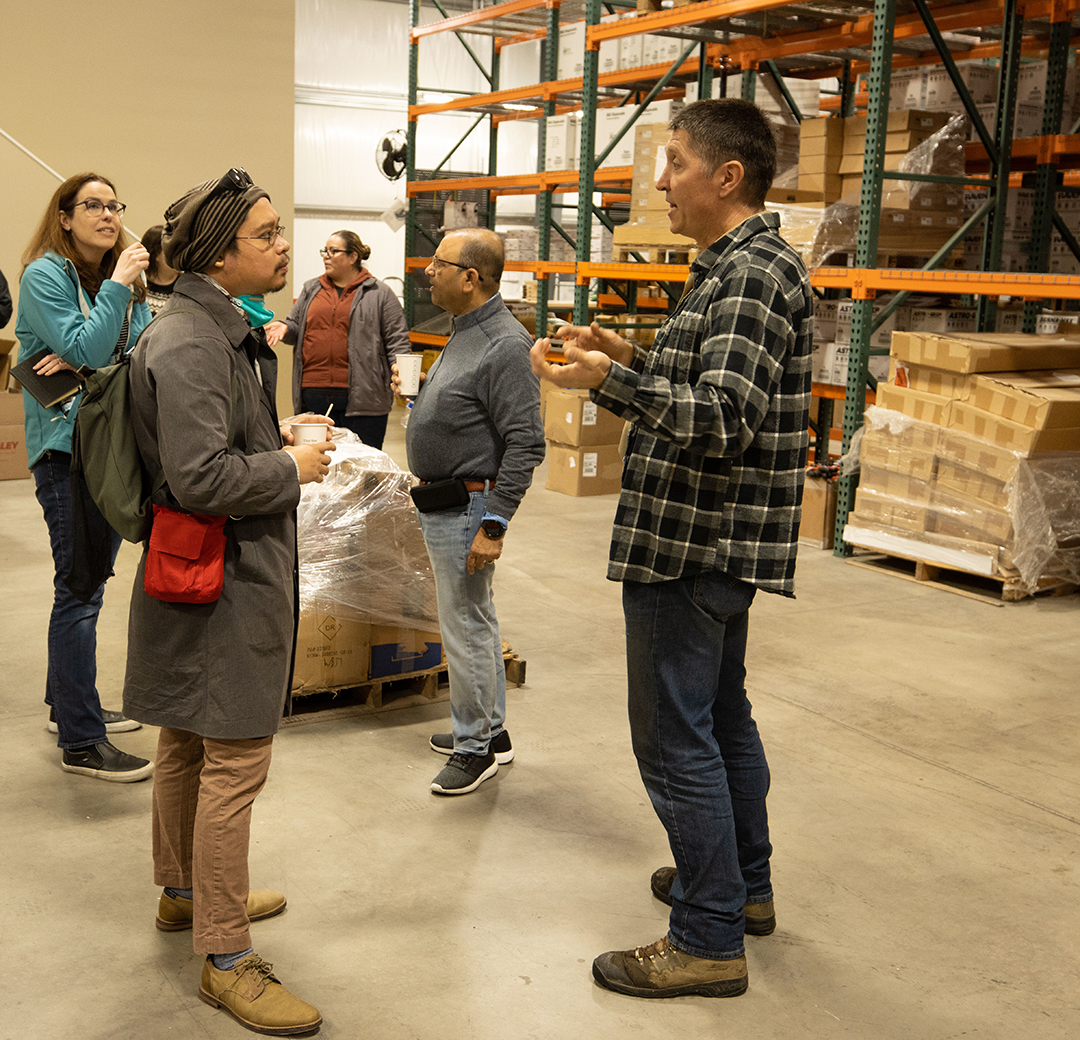 Agarwala opened the doors of his new Inland Hardware storefront in Turlock to the students in faculty member Katherine Sheldon's Marketing Management class (MKT 5140). His hope is that the students' fresh perspectives will help him make his new store as successful as his wholesale supplier business. 
"It's a good opportunity for students to see how a business works in person," Agarwala said. "But it is also beneficial for us to get new ideas." 
Sheldon made the Inland Hardware store the subject of a class assignment. She recently got her students out of the classroom to tour the facility and start working on a real-world analysis of the storefront business. 
"Textbook examples usually lean you to one answer or another, but real business is not like that," Sheldon said. "Real life is not a textbook, things are never as neat and tidy as in a textbook." 
Having the students visit a business that is "all new to them" and where they do not know the "traditional mindset" is a good way to encourage new ideas to flow, Sheldon said. 
"They are asking questions that might make them think unconventionally because their ideas are unconventional," she said. "That is why fresh perspectives are so valuable." 
First-year MBA student Arianna Shaw explained the class project and visiting the store was so necessary. 
"We are drafting a marketing plan and for us, it is important to see what they do and what they sell so we can have a better understanding of this business' needs," Shaw said. "We are taking note of what they are doing so we can develop a brand story and help them bring their business to life."  
Shaw works at E.&J. Gallo Winery and has been connecting the dots from what she has been learning to what she does at work. 
"Seeing the different teams that we work with and seeing those different initiatives, you really have to define yourself as a brand so you can get your business and products out there," she said. 
Student Yves Angelo DeCastro saw the class tour from a different perspective and was more interested in the physical building and components that make up Inland Hardware. 
"In house, you see the dimensions of the facility and whether they could scale down. That is one thing you might miss if you are reading that information," he said. "Seeing the capacity and the type of products they are moving helps us generate an idea behind our project at the end of the semester."  
Michelle Khalar provides executive support at Inland Hardware and her husband, Peter, is the general manager.  They were both speakers at the class tour and agreed that the opportunity is important to  students. 
"It gives them real-world experience," Michelle Khalar said. "It gives us fresh ideas and perspectives. The overall importance is that this is a great community outreach. "We are working within our existing community, and it allows the students to work within their existing community."  
Peter Khalar added that "giving this type of experience to students increases their knowledge base and exposes them to different things that they might not be exposed to otherwise, especially if they are only in the classroom environment." 
Peter Khalar said he hopes that with the help of Sheldon's class, he too will learn something new that could help business in the future. 
"Sometimes you get these little nuggets of information, just little things they say that we did not think about before," he said. "They're answering our questions in ways that are fresh and new because they have the new teachings while we are all the older generation with older thinking. Hopefully, their younger eyes will see something we have been overlooking." 
Jagraj Chahal is a first-year MBA student who comes from an almond farming family and was here mainly to look at the managing side of this business. Pointing at Peter, Chahal said, "It is crazy the way he knows about everything and these products. My end goal is to have my own business, and the way Peter is knowledgeable and passionate about this business is cool to see."  
Agarwala added that he and his wife Upma are looking for student interns to help in the fabricating shop and the offices.  
Those interested in applying for an intern position can email Hemanta Agarwala or Upma Agarwala.