Peer Mentors Are Guiding First-Year Students
Abdisa Chewaka's "ah-ha" moment came during a Brother-to-Brother meeting, an informal gathering for men of color organized by the Male Success Initiative (MSI). 
"The first meeting blew my mind," said Chewaka, a first-generation college student and a senior from San Diego majoring in computer science. "I didn't know I was feeling uncomfortable in classes because I was the only male student in most of them. When someone else mentioned it, I thought, 'That's the No. 1 reason I don't raise my hand or talk to the professors. I don't have someone next to me to share my feelings, or to give me more confidence as a fellow man of color in my class.'"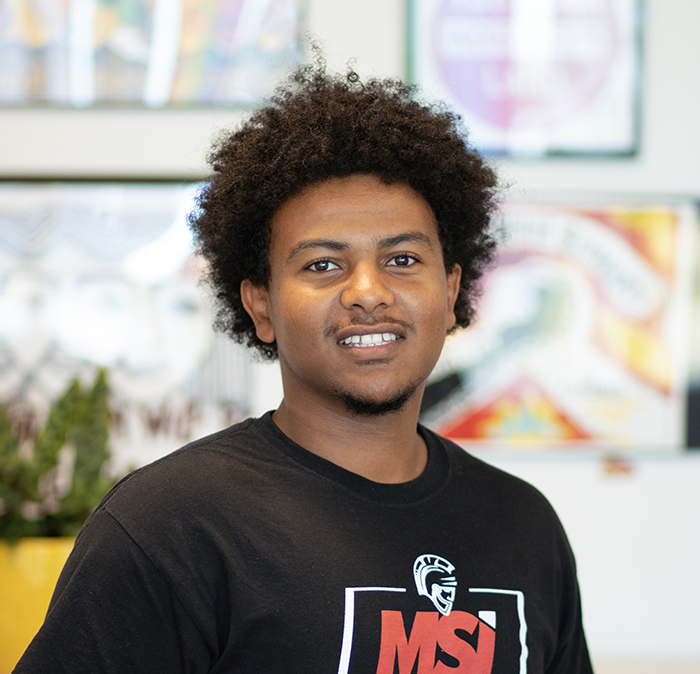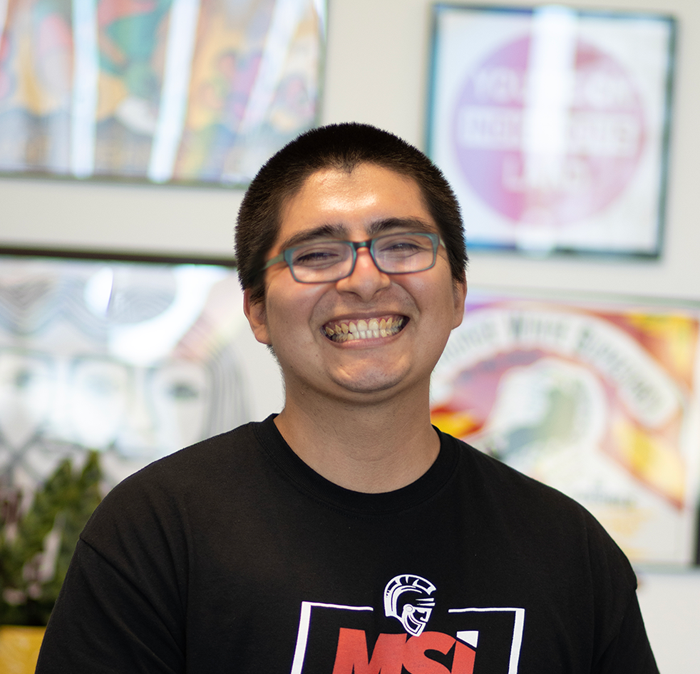 Helping first-year students understand that dynamic, as well as introducing them to available campus services, are tasks for Chewaka and Luis Toledo, who were hired as MSI's first peer counselors.
Funded by a one-time $20,000 grant from the California State University Student Success Network, the peer mentors will work one-on-one with individuals throughout the year and hold group meetings once a month. 
"Ultimately the goal for them is to be a bridge," said MSI Coordinator Miguel Jimenez. "We know they also are students. We're not expecting them to serve as an advisor. We're not expecting them to solve problems. We're not expecting them to have solutions to everything, but what we want them to do is build strong relationships with first-year students. 
"We know the first year is such a critical time for any student, particularly if they're men of color and like me, the first in their family to attend college. I think having them as mentors helps first-year students feel a little more comfortable, a little more at ease that there's someone that looks like them, who has been through it, that is now thriving and being successful as an upperclassman here at Stan State." 
-Miguel Jimenez, Male Success Initiative Coordinator 
---
Toledo is working toward a master's degree in education counseling after graduating in May with a Bachelor of Psychology. He initially transferred to Cal State Monterey Bay from San Jose's Evergreen College, knew no one and was on his own to figure out classes and his surroundings. The cost of attending college there proved too much, prompting his transfer to Stan State. 
"I started at Stan State in Fall 2020, so I wasn't able to get any of the resources on campus," Toledo said of beginning his time as a Warrior when classes were remote. "I would attend some of the (virtual) meetings for MSI. I always thought it was a pretty cool concept how they were trying to get men of color to continue their education and graduate. Now that I am on campus and using resources, I want other people to know about it too, to experience what I didn't get to experience." 
Chewaka arrived at Stan State in 2018 after graduating from UC San Diego's Preuss School, a charter school intended to prepare low-income, first-generation students for college. The eldest child of Ethiopian immigrants, Chewaka heard about MSI from a friend while playing basketball. 
"As a man of color, there's not a lot of connections I can make regularly enough that I can ask them and be comfortable with the questions I ask a person," Chewaka said. "Knowing there's a space like this was really great for me." 
Each peer mentor initially was assigned eight individual students to meet with at least once a month, but their caseloads grew as more first-year students learned about the program. 
Both voiced excitement about the peer mentorship opportunity. 
"After being at home and not being able to do much and finally being able to be out here and back on campus, I wanted to start giving back to the community," Toledo said. "I feel like it was building up inside me as I was cooped up at home. It furthered when I ended up getting into the master's program and thought maybe I'd be a counselor, maybe K-12. I wanted experience, and with MSI, things lined up." 
Chewaka was motivated by attending the Young Male of Color Consortium in the spring with other MSI students. 
"Most of my life, education was an important thing," Chewaka said, noting his parents' encouragement means he and two younger siblings are all in college. "I didn't know how bad it was statistically for young men of color. That conference pointed out the severity of the issue. That raised an interest in what I wanted to do in the space I was given. When Miguel was talking about what they were trying to do, I was in line. I asked, 'what can I do? What do you need?" 
Jimenez said it was easy to select Toledo, who hopes to inspire others, and Chewaka, who envisions building a broader community. 
"Their ability to connect with people was evident," Jimenez said. "I had an opportunity to meet them in some capacity over the past year in our programs. They both already knew and had experienced the mission of MSI. It was an easy transition for them to go from not only receiving services but providing them." 
Landing the grant and adding peer mentors is another step forward for the 2-year-old MSI. 
"Most programs like MSI have a mentoring component," Jimenez said. "It aligned with us re-populating campus. We had set a strong foundation with MSI as a whole and were ready to take the next step. We're ready and now we have the funding, so let's push forward and expand our services. It fills the needs we have for the campus and is representative of why we exist as MSI."