SERSCA Grants Assist Counselor Education Graduate Students' Venture Overseas
They visited Rome, fell in love with the Trevi Fountain, spent two weeks in Tuscany, and in Ireland, were awed by the Book of Kells and dismayed to see an actual wall separating Catholics and Protestants in Belfast.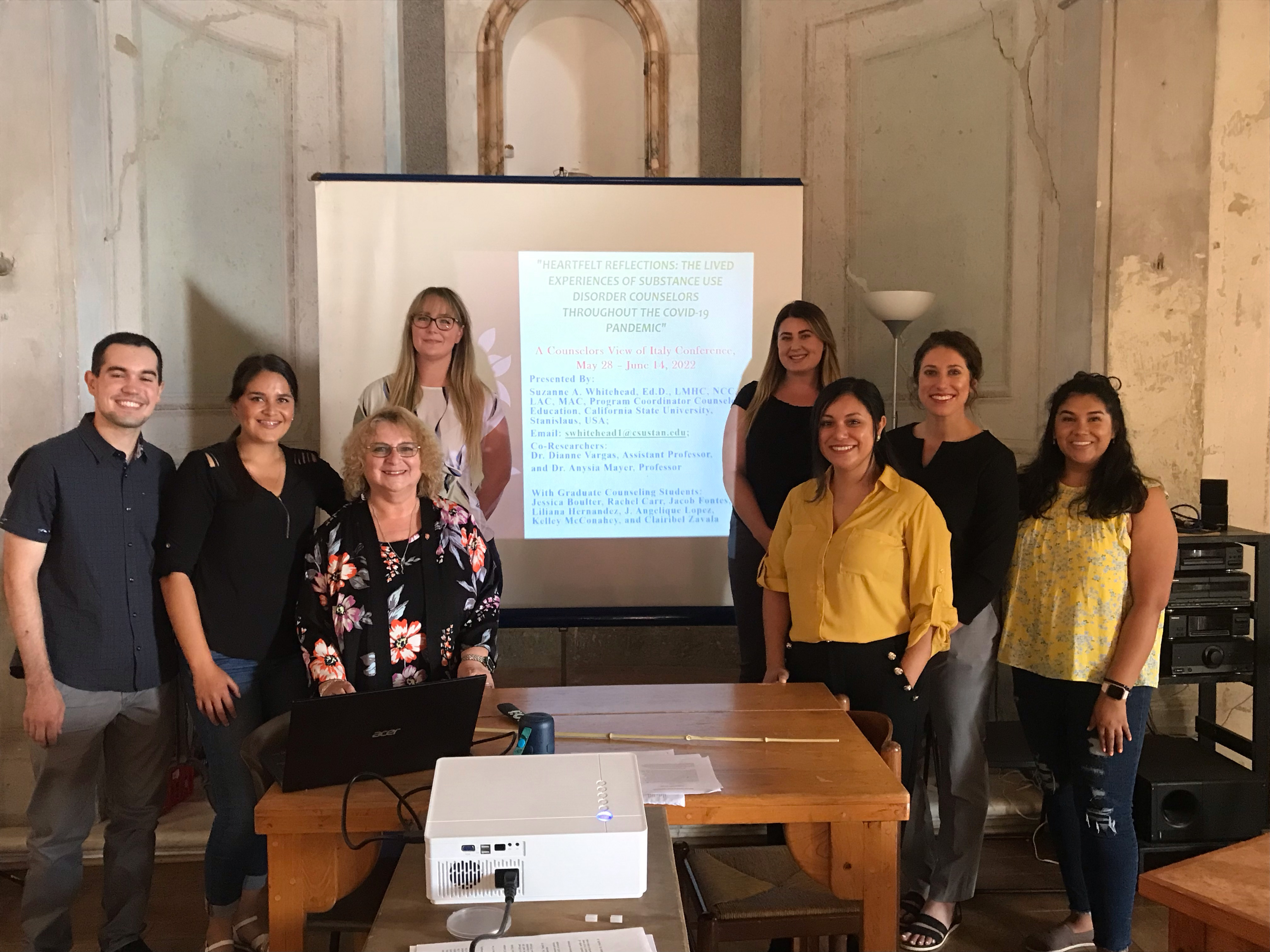 Seven Stanislaus State students granted Student Engagement in Research, Scholarship and Creative Activity (SERSCA) travel awards presented research at "A Counselor's View of Italy" and four more shared the work at "A Counselor's View of Ireland." Both international institutes were offered by the National Board for Certified Counselors.  
The Counselor Education master's students spent much of the 2021-22 academic year researching the effects of the COVID-19 pandemic on counselors working with those suffering from opioid use disorder. 
Associate Professor of Advanced Studies in Education Suzanne Whitehead, who is the program coordinator of counselor education and a licensed therapist, led the research project. 
"I haven't come across any studies, yet, where they talked to substance use disorder counselors about their experiences," Whitehead said. "There's a lot of studies out there about what clients went through and what the recovery was like." 
The effects on the counselors trying to treat them during a pandemic was unexplored, and she, together with Professor Dianne Vargas and Community Equity Research Center Executive Director Anysia Mayer, formulated the research idea, won approval from the campus Institutional Review Board (IRB) and began reaching out and interviewing counselors. 
Whitehead invited any of her graduate students interested to join the research project. Those willing to present at one of the two international conferences were eligible for SERSCA awards. 
The research and interviews with counselors are continuing, but the seven students who spent 17 days in Italy and the four who were in Ireland for 12 days, had stories to share. 
"I remember just how badly these counselors wanted to help their clients and weren't able to," said Jessica Boulter, who presented in Italy. "The patients couldn't come in, and their clients didn't have internet access or any way to do a telehealth appointment. Counselors didn't have access to their clients to help them." 
Each student shared a different aspect of the research presentation, but learning about treatment in Italy and Ireland, even visiting a residential treatment center in Dublin, changed the perspective of some students. 
"Americans take a medicinal approach," said Ericka Amador. "After we presented, a counselor told us Ireland's counselors have a more holistic view and way of treating clients.  
"The treatment center we visited was like a home. It wasn't cold and gray or dark. They had a garden. They had animals. It felt like a home where healing can take place." 
Classes in both Italy and Ireland were held every other day, and trips to local sites were scheduled on non-class days. Both left a lasting impression; some students were inspired to continue with the research. They all took lingering memories of places they'd visited. 
Her favorite memory was visiting Belfast in Northern Ireland. 
"In America our division is because of race and there it's divided by religion," Amador said. "It's the same struggle. The cab driver kept saying, 'We've come so far,' and I was like, 'Come so far? There's literally a wall dividing your city.'" 
Among the more tranquil sites, though, was the Book of Kells at Trinity College, where they stayed. Seeing the book, transcribed by hand and illustrated by monks in 800 A.D., had long been on Amador's bucket list. 
The beautiful site Annmarie Pearlman enjoyed was the Powerscourt Gardens. 
She and the other three students in Ireland set out on bikes for Galway to explore the countryside and Pearlman's bicycle seat was too high. She couldn't ride it. Two elderly men in a van stopped, pulled out tools and adjusted the seat.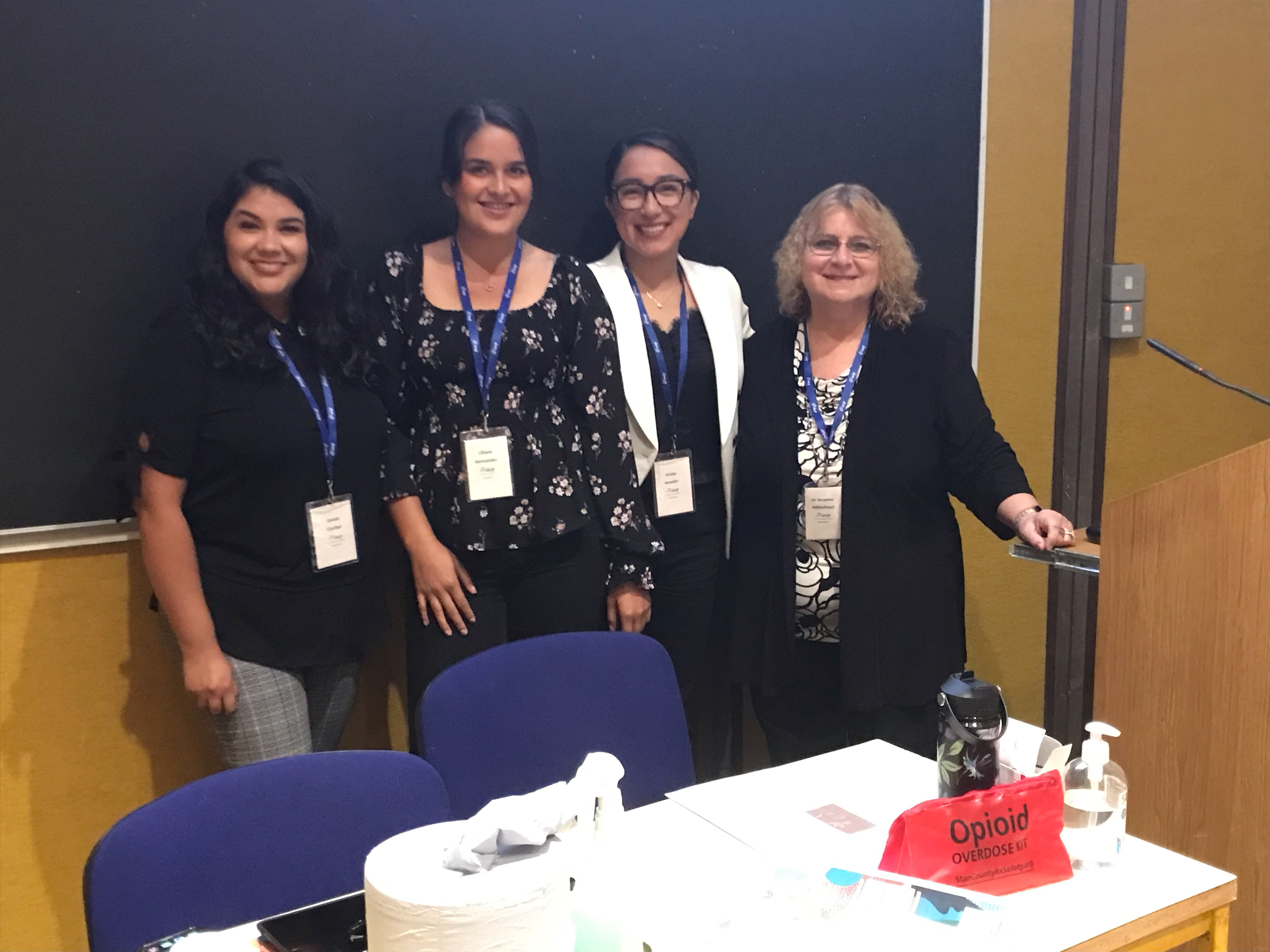 "It was the nicest thing," Pearlman said. "I'm used to traveling internationally, and often you don't want to advertise you're American. In Ireland it was completely different. Everyone was super nice to us. The four of us were out and we're Mexican, and we ran into someone from Mexico. Meeting people from all over the world in Ireland was a big shock, but it was incredible." 
What was incredible to Claribel Zavala, the only student to visit both counties, was Rome's Trevi Fountain. 
"Ever since the Lizzy McGuire movie (which features the fountain), it was a dream to see it," Zavala said. 
Beyond that, she gained valuable insight from both cities. 
"It was interesting to get to learn about each culture," Zavala said. "Italy was very different from Ireland. In Ireland they were very nice and open to you. In Italy we met some people that were a little bit more conservative. It was a learning experience. We can put that into perspective as teachers and as school counselors. We may see students who are coming from a different country, are kind of afraid of being able to adapt to this new country and the language."