University Honors the College of Science and College of Education, Kinesiology and Social Work Class of 2022
TURLOCK, Calif. — Stanislaus State closed the books on its 62nd Commencement ceremonies on Friday, May 27, in spectacular fashion by celebrating Class of 2022 graduates from the College of Science and the College of Education, Kinesiology and Social Work.
For the 2021-22 academic year, Stanislaus State recognized 3,130 graduates and 306 credential recipients during four Commencement ceremonies held over two days. The in-person festivities were also livestreamed on YouTube. Ceremonies for the College of the Arts, Humanities and Social Sciences and the College of Business Administration took place on Thursday, May 26.
"My heart bursts with pride and happiness for all of you," President Ellen Junn said to hundreds of graduates, parents, families and friends gathered in the University Amphitheater.
Overcoming difficult circumstances, sacrificing to achieve goals, uplifting others through words and actions and resilience were recurring themes mentioned by speakers at the podium. 
"When you look back on your time at Stan State, remember to congratulate yourself for your ability to persevere, cope and rise up to overcome many challenges in order to get to your graduation day," Junn said. "I feel so confident and proud that each of you will find your passion and be a part of the solution in making your families, neighborhoods, our region and our world a more equitable, sustainable and just place."
Student Speaker Jose Santos

Jose Santos, who is graduating with a Bachelor of Arts in Psychology and was the student speaker during the College of Science ceremony, related how the uncertainty of the past two years has helped him and his fellow classmates learn how to adapt to challenges.  
"The events we've experienced over the last couple of years certainly demonstrate how unpredictable this world can be," Santos said. "We have all struggled to find our path through these experiences. Although difficult, I want everyone to remember where that struggle has led you.
"Our shared tenacity as students and as humans helped us get through these uncertain times," Santos said. "No matter how uncertain the world is, we can only strive to forge our future with the same tenacity we have now. Despite the uncertainties, we survived, and we will thrive."
In her speech during the College of Education, Kinesiology and Social Work ceremony, Rabia Qaiser, earning her Master of Social Work, told her classmates that the challenging events of the past few years "will allow us to feel prepared for anything the world may throw at us.
"Success does not come easy, and we will hit roadblocks throughout our life," Qaiser said. "But it's important that we maintain the strength to continue to endure life's challenges, maintain hope and find the courage to get back up and work towards our success.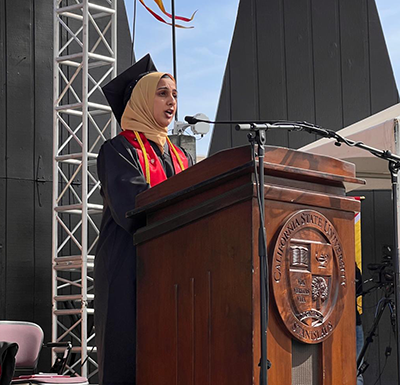 "Although we spent years of hard work and endured unbearable stress, we also established a sense of self, a purpose and motivation to continue with our journey and today, we are gathered here to celebrate our achievements, self-discovery and courage."
The Class of 2022 Commencement ceremonies were the largest in-person events to take place at Stan State since 2019. The University postponed Commencement in 2020 due to the COVID-19 pandemic. Commencement was held in 2021, but the in-person ceremonies were smaller, and graduates were limited to two guests.
Many of the speakers reflected on the pandemic and the difficulties it posed. But there were also moments of levity.
"Class of 2022, you are — and will always be — part of a unique group of Stan State graduates who have a special connection to the University and to each other," Junn said. "And you are the generation that will forever know the meaning of "You're on mute."
This year, graduates could invite up to five guests and participants saw the return of a few Commencement traditions, including graduates walking across the stage as their names were announced. Faculty members joined students in their academic regalia, cheering and celebrating during the ceremony.
One practice implemented during last year's ceremony remained part of this year's festivities provided many heartfelt moments: Graduates who earned their master's or doctorate degree were hooded by one of their invited guests. In some instances, parents hooded their graduate while others had their child, friend or loved one do the honor.
"You have worked hard; you have sown the seeds for your future," President Junn said. "So, go out there, shake up the world, and make us proud, as the mighty, the daring, and the distinguished Class of 2022!"