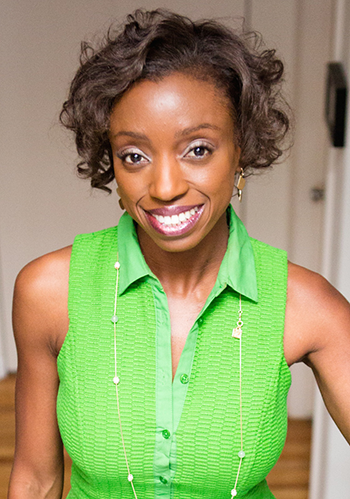 As shock swept across the United States following George Floyd's murder last May, Associate Professor of Psychology Aletha Harven could see that Stanislaus State's campus community wanted and needed to talk about anti-Black racism and its effects on campus, but they were having difficulty finding the words. 
She attended campus meetings where she knew the words "anti-Black racism," "white supremacy" and "systemic racism" needed to be spoken but weren't. Many people seemed unsure of their words as they tried to start conversations they hoped would lead to a better future, Harven said. 
Determined to help her colleagues better understand systemic racism on campus, Harven put her talents as a leader and an educator into high gear. 
"We needed to talk about anti-Black racism not just talk around it," she said. "Systemic racism, white supremacy — we need to be able to say the words. Anti-Black racism exists, and we need to be able to talk about it and say the words so that we can address it." 
In the days that followed, Harven served as the visionary and co-author of "Black Lives Matter: Standing in Solidarity with the Black Community," a response to the Floyd murder put forth by the Collaboration for Inclusion and Engaging Curriculum, Instruction and Achievement (CIENCIA). Then, she pulled together "Confronting Black Racism on College Campuses," a 12-speaker, two-day professional development training for educators that attracted more than 1,000 participants nationwide last August. 
Harven says her work brought immediate results to Stan State as she saw the campus community become more aware and able to talk about systemic racism and anti-Black racism. Nearly a year later, her work on the issue is the primary reason she has been honored as Stan State's 2021 Outstanding Community Service Professor, her second Outstanding Faculty Award.  
"The award means that the work I'm doing on campus is being recognized and acknowledged, and it is nice to be recognized," said Harven, who earned the Research, Scholarship and Creative Activity Award in 2019-20 for work that included securing the $1.46 million grant that funds CIENCIA. "This is additional work that I take on, not because I feel obligated to do it, but because I want to do it. It is important, critical work." 
The recognition is especially meaningful, Harven said, because there is a national history of Black people's work being co-opted by others without credit, and that is part of anti-Black racism. 
"It's important for Black people like myself, who are leaders, to be recognized so that our work isn't ignored or erased," she said.  
Last fall, Harven continued her efforts by creating and hosting a series of virtual talks called "Transformative Conversations: Promoting Equity and Inclusion in Education and Beyond." The talks featured prominent Black scholars who shared their knowledge about anti-racism and anti-racist practices that can be employed in higher education. 
Harven came to Stan State in 2014 and describes herself as a motivational scholar and culturally responsive educator who comes from a long line of educators and has education "in my bones." She encourages her students to pursue higher education to whatever level they choose and to ignore anyone who discourages them or causes them to doubt their abilities. 
"I was always motivated and inspired by my amazing parents, and I want to be that person who can help inspire and motivate my students," she said. 
In addition to teaching in the Psychology and Child Development Department, she is a co-principal investigator on the CIENCIA team, has a seat on the President's Commission on Diversity and Inclusion and was appointed as the lead faculty advisor for the Warrior Cross Cultural Center. Her areas of expertise include K-16 education; diversity, equity and inclusion; social justice teaching; risk and resilience; psychosocial adjustment; and academic functioning including motivation and achievement.