President's Central Valley First-Generation Scholars Initiative
The First-Generation Presidential Scholars initiative is a new fundraising priority at Stanislaus State to create unique scholarships for students from California's Central Valley who do not have a family history of higher education. The First-Generation Presidential Scholars initiative will be the first of its kind at Stanislaus State and the first in the California State University system to affect and attract students from a specific geographic footprint.
"I've established the First-Generation Scholars initiative to help our region's first-generation college students. It reinforces Stan State's commitment to shaping the future of the Central Valley. I feel so passionately about this initiative, and I take great pride in personally sponsoring one of the first scholarship awards."
- Ellen Junn
President, Stanislaus State
---
Through the generosity of donors, the First-Generation Presidential Scholars initiative will bolster Stan State's efforts to cultivate a diverse and supportive learning experience for students from the Central Valley with demonstrated academic talent. The scholarship awards — starting at $25,000 for transfer students ($12,500 each year for two years) and $50,000 for entering freshmen ($12,500 each year for four years) — cover tuition and fees, books and a laptop. Moreover, these scholarships are designed to offer students targeted internships and/or mentorships with industry and civic leaders.
Recipients will be competitively selected and the number of awards will be based on the level of donor engagement. Proudly, President Junn is one of the first to sponsor a four-year, first-generation student at $50,000.
Opportunities are available for donors to be a part of the success of first-generation students right here in the Central Valley. Gifts to support a First-Generation Presidential Scholar transfer student or entering freshman can be fulfilled over the course of two or four years, respectively.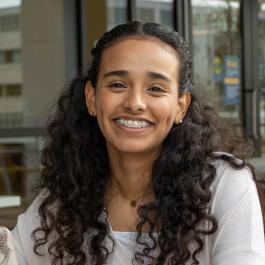 Paola Campos
"Being a recipient of the President's Central Valley First-Generation Scholarship has greatly broadened my opportunities at Stanislaus State and beyond. This scholarship shows the University's commitment to helping all students feel involved and valued.
The Central Valley is in a state of social and economic growth, one that can only be sustained with a highly trained and educated workforce. Reducing barriers for students to attend college is essentially an investment, not only in education and the economy, but also in improving the lives of many individuals."
Paola Campos
President's Central Valley First-Generation Scholar
Updated: October 27, 2022