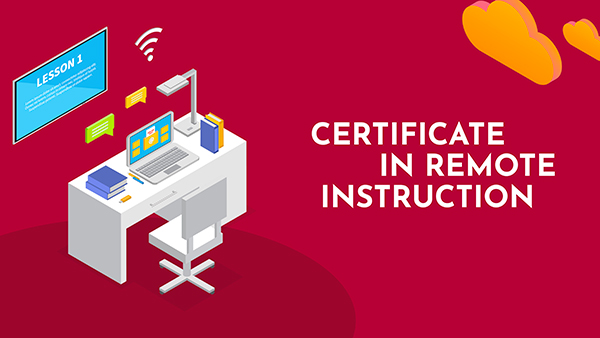 Core Remote Instruction Workshops
(complete at least 16 hours)
Academic Integrity
Assessment
Asynchronous Instruction
Course Redesign
Engaged Lectures
Engaging with Online texts/Notetaking
Google docs
Group work
Synchronous Instruction
Universal Design for Learning Level I
Universal Design for Learning Level II
Workload Management
Assessment in STEM (coming soon)
Google Classroom (coming soon)
Pandemic Pedagogy (coming soon)
Equity Electives
(Complete at least 3 hours)
Employing Equity-Minded & Culturally-Affirming Teaching and Learning Practices in Virtual Learning Communities
Addressing Racial Bias and Microaggressions in Online Environments
Trauma-Informed Pedagogy: Teaching in Uncertain Times with Dr. Mays Imad
Being Aware of Learning Opportunities and Constraints Posed by Online. Teaching and Moving Towards Anti-Racist Practice
Equity-Minded Mathematics Instruction
How to Express Care with a Focus on Racial Equity
Program Description
The Certificate in Remote Instruction is meant to prepare instructors to teach remotely in unforeseeable situations like the current public health emergency or other natural disasters. This certificate will prepare participants with knowledge related to distance course design, remote instruction/course delivery, alternate student assessment and other issues related to remote teaching and learning The converted course will utilize equitable teaching practice and promote teaching and learning strategies that recognize not all students may be able to meet remote course instruction requirements (technological needs, synchronous vs asynchronous course sessions, etc.).
Requirement
To earn the Certificate in Remote Instruction, faculty must complete the following:
Complete 16 hours of Remote Instruction Support workshops & accompanying reflection logs (live or recorded)
Complete at least 3 hours of Equity-minded electives & accompanying reflection logs (can choose from options)
Submit a final Remote Instruction deliverable (please see below for more details)
Final Deliverables
Statement on Remote Instruction
A statement that indicates what was learned from the Remote Instruction Support workshops and Equity-minded electives (including course design, content delivery, student engagement, diversity/equity-mindedness, and activities/assessments) and how it was/will be applied to a specific course that will be taught remotely. Please feel free to include examples of modules/assignments from the course.
Equity-Minded Worksheet for Online Courses
Please use the attached worksheet to help guide your analysis and evaluation of your online course in reference to particular Principles and General Characteristics of inclusivity and equity-minded teaching practices.
Registration