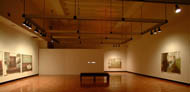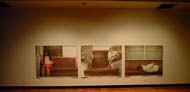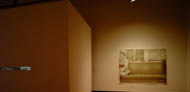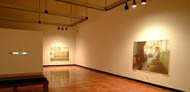 Subscape
March - April 12, 2001
As an artist in residence for six months in Tokyo, Japan on a travel fellowship awarded by the National Endowment for the Arts and the Japan/US Friendship Federation, Kim Yasuda used a digital video camera to record her time on the extensive underground subway system. Yasuda visually interprets the unremarkable, interim moments of waiting between departure and arrival as subterranean landscapes of Japanese urban life. She is exploring the conjunction of personal and public space in Japanese culture and the negotiation of proximity contrasted with the sense of public domain and space in the West. Her installation involves photographs and digital projections in a kind of reenactment of the subtle delineation of this transit experience, allowing the viewer to occupy this space both physically and conceptually. This is the premier exhibition of Yasuda's new works from her research trip—the work will travel to Japan afterwards.
For Yasuda, her first-time experience in Japan brought forth a sense of estrangement, rather than affiliation toward her claim of cultural identity as a third-generation, Japanese American. As Yasuda states, "I was less Japanese than I thought I was". Her photographic portraits attempt to embody this sense of anonymity between herself and others.
Born in Oakland, CA., Kim Yasuda is an Associate Professor of Art and the Chair of the Art Department at the University of California, Santa Barbara. Her multimedia installations have been exhibited at The Whitney Museum of American Art, The Camerawork Gallery, London, England, The Art Gallery of Ontario, Canada, the List Center for Visual Arts and the Massachusetts Institute of Technology, Boston.