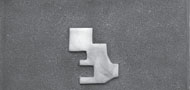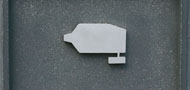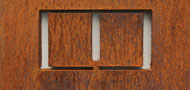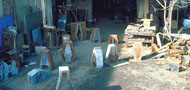 ​
Tom Bills-Sculpture
January28-February 2, 2012
Reception: Thursday February 7, 2012 at 5:30 pm
Artist Talk at 6:00 pm: Tom Bills 
Artist Statement
Once committed to an idea, the real work begins. How does one maintain a relationship with what they are doing if it only makes sense to them? What can you pursue within a visual idea…over and over again, day after day asking the same questions, "What is it, why do it, what is there to find?" In the arts, we have the luxury to ask these questions of anything and begin with the assumption that the answer will always be momentary at best, permanently left on the table but left behind immediately to begin again. The search is the art. When it becomes unmistakably clear that the painting or sculpture holds it's own identity, good or bad, there is nothing left for the artist to do except move on. Start again.
My approach has always been to try and shift the energy of "Being" from the self to the work. I guess my ideal sculpture would be staring at me, asking what I wanted, why are you looking at me? I want the work to stand unchallenged because it's own character is final. When there is nothing to give but itself as fact, and there is no expectation that the viewer has to bring forth an understanding of anything, the piece is successful.
The following plates are images of works from as early as 1976 and every five or so years since then. Many of them are flame-cut steel and cast lead – a process I continue to this day as well as an example of a larger permanent outdoor work of cast concrete. The earliest work is made of plywood, later to include cement, to contain the fragility of the unattached pieces.
The invitation to have an exhibition at CSU Stanislaus has given me the opportunity to include a historical survey of my own work in an attempt to support the most current work and to somehow connect some dots over a period of more than four decades. I am grateful to have had this venue to present the number of works I was able to include and hope that the work together in this catalogue and exhibition will help demonstrate that original idea of instilling my presence in the room disguised as a sculpture, however convoluted that may seem.