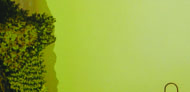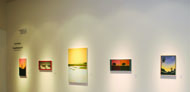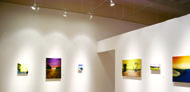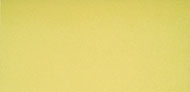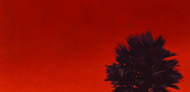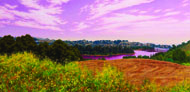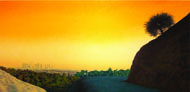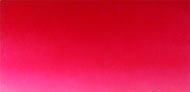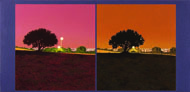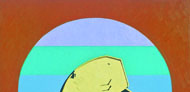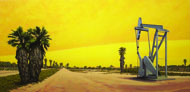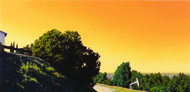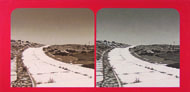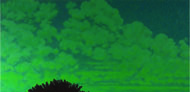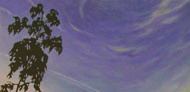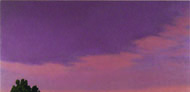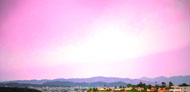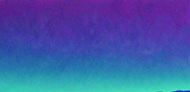 Genuine Fiction(s)
An exhibition of painting
March 10 - April 7, 2009
Reception, March 10 at 6:30 p.m.
Artist talk at 7:00 p.m.
Todd Brainard's recent work refines and renders more complex his previous focus on the intersection of natural and built environments. Often utilizing isolated vantage points in his paintings of the California landscape, Brainard's depictions of increasingly familiar cityscapes and landmarks more closely suggest a documentary and realistic orientation than ever before. Closer inspection, though, reveals the many liberties taken by the artist. In the manner of historical fiction, Brainard's versions reflect the privilege of the author and steer us to consider the subjective nature of personal and collective experience.
Landscapes are all around us and are often taken for granted, both in reality and depiction. Within this familiarity, Brainard maneuvers a mélange of subject and painterly elements, a multifaceted collision of realism, irrational color, photo-like references and painterly reduction, in ways that might suggest many different narratives or conclusions depending on the viewer's orientation. As a result, his process strangely mimics landscapes themselves. Composed by wildly disparate motivations of the humans that slice them up and reshape them, our landscapes reflect individuality more than a cogent master plan.
Like good fiction, Brainard's work dances on both sides of real and fake by testing the balance between documentation and artifice - and never loosing its grasp on coherent landscape depiction. In scenes as much remembered as if actually viewed, the paintings remind us that everyone sees the world through their own filters and that "realism" is an extremely variable concept.