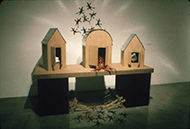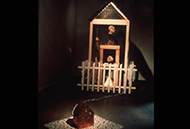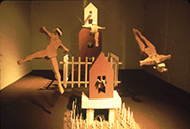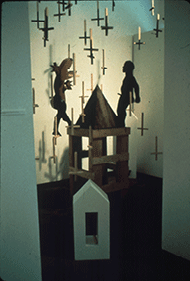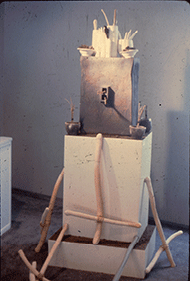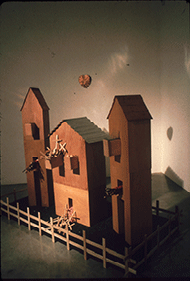 Stanley C. Wilson
January 30 to March 5, 2014
Reception: Thursday February , 2014 at 5:30 pm
Artist Talk at 6:00 pm
My interest in altars seems to have developed during my first trip to Nigeria in 1977. It was during this experience that I had the time and motivation to explore Yoruba structures of belief…or alters. My first reaction was astonishment at the visual richness of the structural forms. The clay, the shells, the ash, etc. acted in harmony to produce one powerful and visually stunning object. My next reaction was immediate focus on the sculptural quality and the spiritual environment of the altar. I then notices that placement of the objects and their relationship to the whole; it was pure power yet quiet pervaded.
Upon my return home, I recalled many similar experiences that I had encountered as a youth My early years in Los Angeles were visually rich as many of my friends encouraged me to exchange ideas and concepts about their cultural belief system.
In my own family, for example, the hearth above the fireplace became an altar. In my maternal grandparent's home, often photographs of family members, alive and departed, were displayed alongside the Holy Bible. Small dishes of candy or nuts were also placed symmetrically side-by-side. As a young man, I often visited my paternal grandmother's house. She was an exceptional pianist. She maintained an on-going altar above her piano, with flowers, an arrangement of family photos (ancestors and new arrivals) as well as elements of food. Both of these personal altars lest lasting images in my heart and mind.
In contrast, as a youth, I observed the altar within the Christian Catholic church, the elevated altar for the Torah in the synagogue, and the central altarpiece at my grandparent's Baptist church. All these observations and the experiences relate to my current works. Sacred works have a deep and shared connection to visual power. My work is interconnected to the sacred and the secular search for personal image making.
I am most interested in investigating the dynamics of sculptural forms as altars. I am impressed by the fact that some forms create tension while others serenity, and still others relate to a traditional sense of mysticism, mafic, or religion. Altars of indigenous cultures (Africa, Asia, the Americas, Oceania, etc.) present a dichotomy as they were used in ritual or religious practices, yet they reflect a strong sculptural presence. They exist as pure form.
My works are concerned with these past practices, but they exist in the present and reflect contemporary concerns.