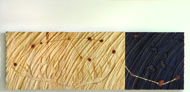 Out of Line
February 15- March 15, 2007
Reception: February 15, 6:30-8:00 pm
Artist Talk at 7:00 pm
Line plays a central role in abstract art – indeed, in all art, but especially in abstraction. In painting where the subject is form itself, artists allow their minds and hands to wander and to contemplate trails and pathways, and in doing so, as Paul Klee put it, they take us "for a walk with a line." Inheriting and maintaining – and often combining – the crisp contours of geometric abstraction and the vigorous, dramatic streaks and dashes of gestural abstraction, today's painters exploit and conflate many different types of line. Line can be image, line can be texture, line can be boundary, line can be notation – line proves to be the very basis for today's abstract thinking, for the abstract painter's whole vocabulary of form. Cartoon or calligraphy, lightning bolt or border, the line is the powerful and versatile servant of any artist willing and able to master it with a little imagination and, as usual, a lot of perspiration.
Is line a path, then, or a border, or a gesture, or simply a thing? As currently practiced, it is all of the above, and more. The elegant curves Dan Brice describes on his multi-panel paper pieces, for instance, could be describing contours, mapping freeways, or pretending to be garden hoses. Barbara Kerwin's straight lines conform into a kind of grid, but it's a grid of triangles – and highly irregular as grids go. Danny Shain's lines seem almost like cracks in walls – what you see on the sides of partly demolished buildings – or boundaries between layers of rock below the earth's surface. Dawn Arrowsmith's tiny lines, almost invisible by themselves, fairly hum themselves into a circle, like a swarm of imaginary gnats.
Klee's friend Vasily Kandinsky called his treatise on abstraction Point and Line to Plane. Against the plane of the picture, today's painters find not only the shortest distance, but all possible distances, between points are lines, each of them inventing a (different) kind of writing, a writing not lingual so much as manual and visual.
In other words, when an artist hands you a line, don't read it – see it.