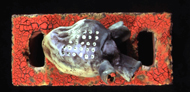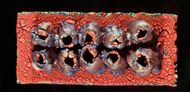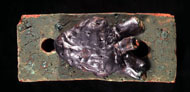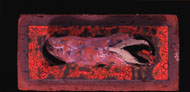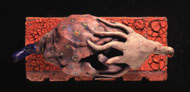 Hearts and Flowers, Psycho-Sensory Tabloids
November 25, 2002 – January 16, 2003
Closing Reception: Thursday, January 16th, 2003 at 6:30pm, 

Artist talk at 7pm.
Joyce Jablonski's ceramic-based art is inspired by ontological investigations (the study of the nature of being) and questions the traditional boundaries between the sacred and the secular. In her sculptures, "anthropomorphic forms suggest heartlike-nest floral shapes which become intimate shelter environments." Joyce seeks to question, challenge, and bring new meaning to the ordinary, "the transforming of things beyond the common towards the abstract, a transcendental dialectic."
Joyce Jablonski has BFA in Ceramics from Youngstown State University, Ohio, and MFA in Ceramic Sculpture and Drawing from the University of Texas at San Antonio, Texas. She is an Associate Professor of Ceramics at Central Missouri State University, Missouri, and has been Visiting Assistant Professor in Pennsylvania, and Drawing Instructor in Lake Michigan College. Joyce has been an Artist in Residence at arts institutions worldwide. She has exhibited in the US, Canada, the USSR, Latvia, and Estonia, and is represented in public and private collections.