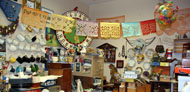 Boxes Empty and Otherwise
November 8-December 16, 2005
Reception: November 10, 2005 at 6:30 pm
Artist Talk: 7:30 pm.
In the exhibit "Boxes Empty and Otherwise," Hope Werness creates interesting scenes within found boxes, drawing from a wide variety of source materials, including computer imagery and items from her vast collection of scavenged treasures. Just as the choice of objects within each box is highly variable, so is the subject matter depicted in each box. Hope draws from her extensive background in art history for much of her inspiration. She also enjoys creating interesting narratives derived from the juxtaposition and interplay of seemingly unrelated objects within her artwork.