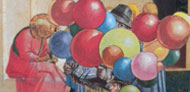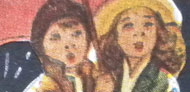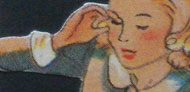 Hope B. Werness Curriculum
Artist Statement
As an Art Historian and "frustrated" artist, I like to make things. When pursuing an undergraduate studio art major, my professors encouraged me to consider careers teaching high school or designing wallpaper. Neither appealed, so I went on, without thinking too much about the consequences, and obtained first an MA and then a PhD in Art History. During my early years of teaching, when it was necessary to focus on academic work in order to get promoted, I missed making things. Then, after being promoted to Full Professor, I allowed myself to begin making things again.
I may be more of a craftsperson than an artist, but making things is both important and necessary to me now—I can't do without it. I enjoy working in collage because it's quick and allows for surprising and unexpected results. And it utilizes my love for illustrations, printed material and other old visual "stuff". I alter the collages as little as possible, using just the cut and pasted materials to convey something that's often evasive and nonsensical.
At any rate, making things provides a balance for me—a right-brain extension of the left-brain work of scholarship that enriches both sides. I feel most fortunate to have the time, conditions, and luxury to pursue these interests of mine. And, besides, it's just plain fun!