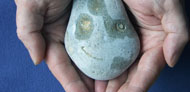 To Have and to Hold
Februrary 9 to March 6, 2009
Reception: Thursday, February 17, 6:30- 8:00 pm
Graham Stewart has been collecting stones (among other things) for over ten years, not just any stones, but stones with faces, that possess something of a character, often reminding him of someone that he has met or know quite well. Stewart now has over a hundred such stone 'friends', and many have traveled with him, to exhibitions in different parts of the world... companions in a way. "There is a palpable sense of satisfaction, even relief in discovering a new stone and adding it to the expanding family group.
A lot of people collect 'stuff'. Clearly I'm not talking about the flotsam and jetsam of everyday life, but a more purposeful pursuit of related items which accrue added meaning by their accumulation". Stewart's interest in exhibiting in the University Art Gallery is to discover and then bring together local collectors from the community within Turlock and attempt to raise the discussion of what a collection represents and examine the motivation driving collectors.
Stewart graduated from Camberwell School of Art and went on to study at the Royal Academy Schools in London. After spending two years working on community arts projects in London he won a Fulbright Scholarship to study at The School of the Art Institute of Chicago graduating in 1987. Stewart currently is a Visiting Assistant Professor at the University of Illinois at Urbana Champaign.