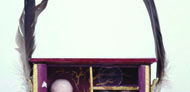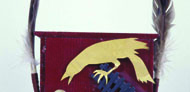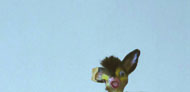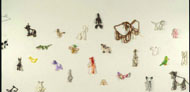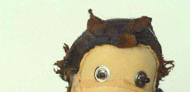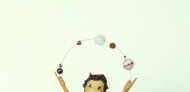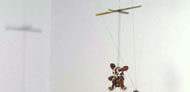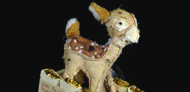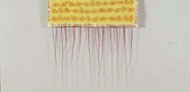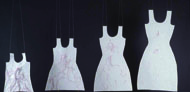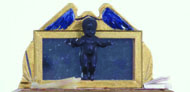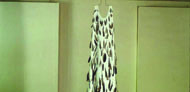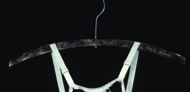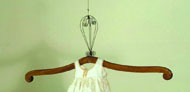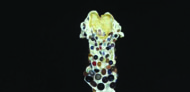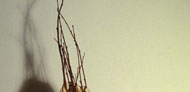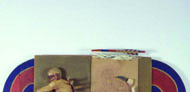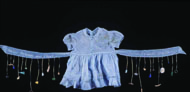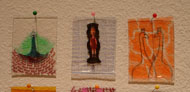 Lost and Found
January 3 to February 1, 2007
Reception: January 11, 6:30-8:00pm
Artist Talk at 7:00pm
Modesto artist, Ellen Roehne, is inspired by the beauty she discovers in ordinary objects and materials. A mother of two small children, she strives to see the world with a child's eyes, rediscovering the wonder and excitement of everyday existence. Roehne sometimes uses found objects and unusual media to portray her daily life, elevating the mundane through the use of repetition in a form of physical meditation. This is reflected in the piece, "Random Thoughts: September-December 2006," a visual diary created with small sketches of ideas, images from daily occurrences, and inspirations derived from activities of her children. These drawings are done on plastic which is then shrunk to approximately 1''x 2'' rectangles and hung on the wall in rows reminiscent of a calendar.
Roehne is also fascinated with the idea of play, something that comes naturally to us as children but is grown out or educated out of us as adults. It is in this spirit of play and unrestricted imagination that much of her art is derived. Many of Roehne's pieces reflect the idea of toys and play but in a much more formal way. Works such as "Sweet Menagerie 2", a series of clay pieces which look like large animal cookies tarnished over time, borrow from childhood imagery but seem as if they could have been excavated, revealing years of use as well as neglect.
All of Roehne's current artwork explores childhood, play and imagery of motherhood through the use of found objects, ordinary materials, and clay. She strives to rediscover the wonder and innocence of the past, seeing the world with renewed curiosity inspired by her own children.