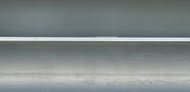 Scanner Lines
March 22- April 26, 2007
The gallery will be closed on Friday March 23, 2007
Reception: March 22, 6:30- 8:00 pm
Artist talk at 7:00 pm
Burton aims his camera at an object, and it's transformed into a luminous, ethereal arrangement of lines in space. Perspective is skewed, lost and in some cases, it's hidden. Some photos are look like complete abstractions until a sudden "a-ha" realization sets in, and the image snaps into focus.
The pictures tread a fine line between the conceptual, minimalist paintings of the 1970's and contemporary digital art. Sometimes, they appear to be paintings, but they're usually unaltered photographs of everyday things: building materials, household objects, blades of grass, with the rest of the world's sensory overload edited out.
Gently austere, subtly imbued with humor, Burton's work starts with the mundane becomes darkly beautiful. Burton is well known as a 2006 Nevada Arts Council Fellowship winner and Truckee Meadows Community College instructor. His work has been shown widely in group exhibitions, auctions and events in Nevada.