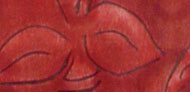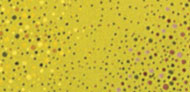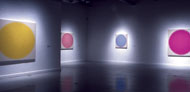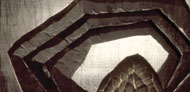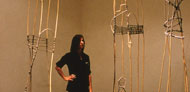 ​
Sculpture and Painting, a brief Survey 
September 9 - October 23, 2009
Reception: September 17 at 5:30 pm
Artist Talk: 6:00 pm
This exhibition is a brief survey of work from 1982 to 2008. Over the years Arrowsmith's work has primarily derived from investigations of a broad range of aspects of nature, longevity, daily sustenance and meditation. The actual physical, obsessive making of the work over twenty-some years has involved wrapping, cementing, carving, staining, sanding, drilling, stamping, melting, shaping, waxing, marking, drawing, painting, cutting, gluing, taping, feeling and thinking.
Arrowsmith's work begins with the Willow Work sculptures, which presents energy in visually active, linear, dramatic forms that literally contest between gestural line and space. The final form in which this contest is resolved is a porous object involving both place and space. Eventually, the linear sculpture grew to require greater solidity and the line dissolved into carved marks made in solid form, which became more about the power of visual image vested in wood panels.
As Arrowsmith moved through bodies of work referred to as Hexagon, Longevity, Dot and Circle works these projects primarily incorporated painting and some sculpture, installation and collage. For the past 10 years Arrowsmith focused on the Circle paintings, in which a meditative aspect materialized revealing a more complete and universal, yet inclusive sense of form.
Arrowsmith's ideas and working process have lead to a profoundly singular, perceptually meditative experience. Having found this place Arrowsmith was aware that the circle or other forms can relate to the human experience in a unique way. Recently, the square has entered the work. In its own way it provides a different version of the pictorial field in which concentrated energy and buffered edges can live together in a world of heightened perceptual possibilities.