*The University Art Gallery is currently closed for summer and will reopen on August 27.*

MORTEZA KHAKSHOOR
August 27–October 12, 2018
Reception Friday, September 21 at 6:00 pm
Artist talk at 6:30 pm
Closed on Monday, September 3 for Labor Day and Saturday, September 14 for private event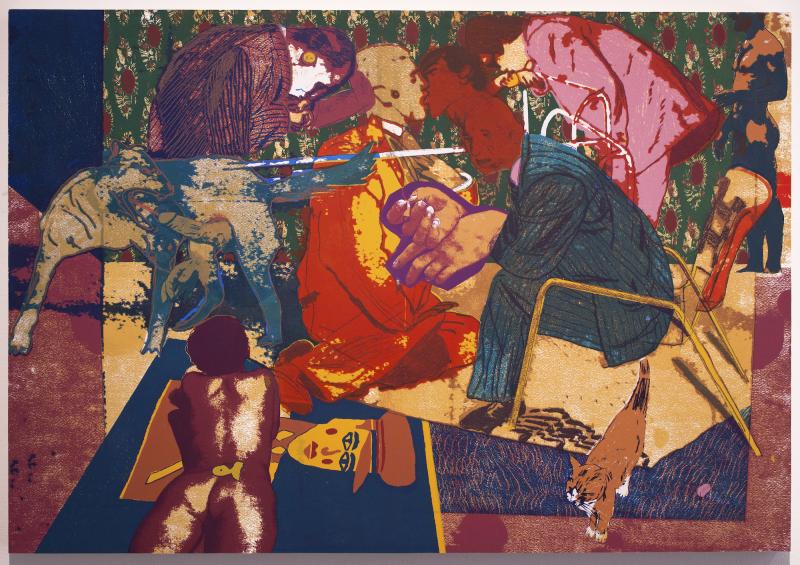 Artist Biography
Morteza Khakshoor was born in Iran in 1984. He studied briefly at the Tehran University College of Fine Arts between 2002–04 in Industrial Design and Sculpture. In 2010 he moved to the US to continue his education in fine arts and studied first at the Art Academy of Cincinnati and later gained his undergraduate degree at the Lyme Academy College of Fine Arts in Connecticut. Khakshoor graduated from the Department of Art at the Ohio State University with an MFA in printmaking in 2018. He has been exhibiting his work in solo and group exhibitions nationally and internationally since 2010. He currently lives and works in Columbus, Ohio.
Artist Statement
Within the past couple of years, I have been making images of men in different situations and places. These men—some real historical figures, some constructed, and some who I know personally—have been the main pictorial motifs in my art making practice. I am frightened and yet fascinated by men. To me, it is pure curiosity in a species, similar to the people who are interested in studying ants, for instance.
Another interest of mine is history, and it should not be a surprise to anyone that I would be interested in the history of the place I was born in, with no particular pride or prejudice towards it. At times, I feel I understand these two very well, simply because: 1) I am a man and, 2) I am an Iranian. But yet, I feel I do not know or understand either of them. This contradiction is the impetus that compels me to make the images I make.