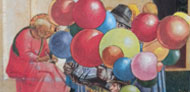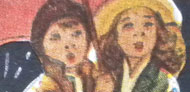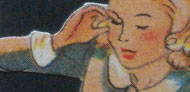 Hope B. Werness Curriculum
April 20 – May 7, 2010
Reception: April 22 at 5:30 pm
Artist Statement
As an Art Historian and "frustrated" artist, I like to make things. When pursuing an undergraduate studio art major, my professors encouraged me to consider careers teaching high school or designing wallpaper. Neither appealed, so I went on, without thinking too much about the consequences, and obtained first an MA and then a PhD in Art History. During my early years of teaching, when it was necessary to focus on academic work in order to get promoted, I missed making things. Then, after being promoted to Full Professor, I allowed myself to begin making things again.
I may be more of a craftsperson than an artist, but making things is both important and necessary to me now—I can't do without it. I enjoy working in collage because it's quick and allows for surprising and unexpected results. And it utilizes my love for illustrations, printed material and other old visual "stuff". I alter the collages as little as possible, using just the cut and pasted materials to convey something that's often evasive and nonsensical.
At any rate, making things provides a balance for me—a right-brain extension of the left-brain work of scholarship that enriches both sides. I feel most fortunate to have the time, conditions, and luxury to pursue these interests of mine. And, besides, it's just plain fun!
---
Boxes Empty and Otherwise
November 8-December 16, 2005
Reception: November 10, 2005 at 6:30 pm
Artist Talk: 7:30 pm.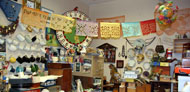 In the exhibit "Boxes Empty and Otherwise," Hope Werness creates interesting scenes within found boxes, drawing from a wide variety of source materials, including computer imagery and items from her vast collection of scavenged treasures. Just as the choice of objects within each box is highly variable, so is the subject matter depicted in each box. Hope draws from her extensive background in art history for much of her inspiration. She also enjoys creating interesting narratives derived from the juxtaposition and interplay of seemingly unrelated objects within her artwork.