Students Inspired to Reach Higher Individually, Grow Male Success Initiative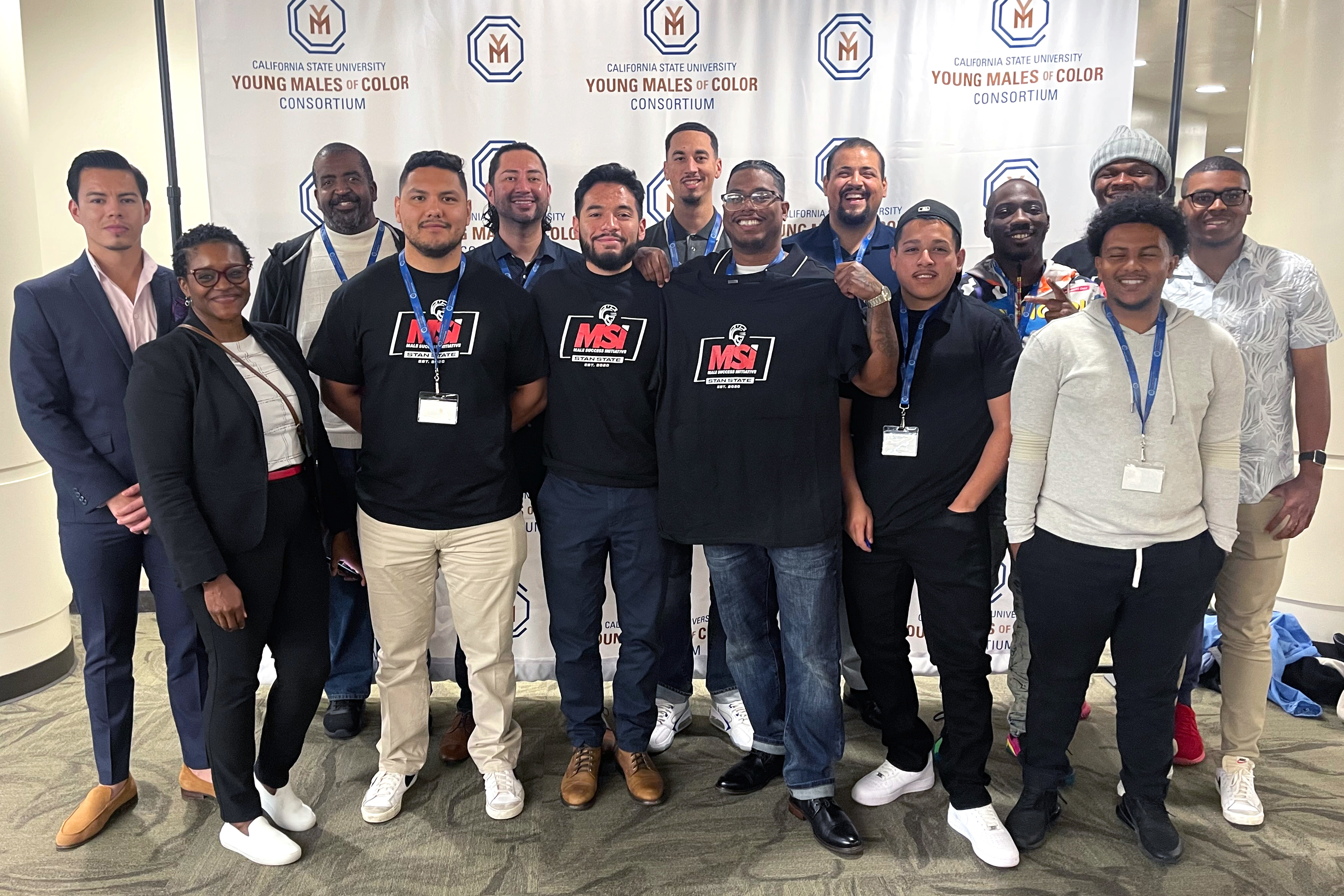 They arrived at the 2022 Young Males of Color Consortium at Sacramento State, 10 individual Stanislaus State students. 
They left as friends, their lives changed after three days with students from all 23 California State University campuses spent hearing stories from students of color who'd overcome hardships to succeed and listening to professors and administrators who looked like them and held advanced degrees. 
Sophomore Alvaro Cabrera, of Salvadoran and Mexican descent and raised by a single mom in South Central Los Angeles, heard about the impact of the consortium from former Male Success Initiative (MSI) student intern, Isaac McCrimon, a Black student from Gilroy, who attended in 2019. 
"He told me there was no end to the possibility of success he could reach," Cabrera said. "I thought that was crazy. For me, where I'm from and where he comes from and both being men of color, I felt subconsciously we have this limit, that we can only go so far. He told me that limit was gone. I got to the conference and saw people that have blown that limit to smithereens." 
Cabrera, a double major in business and communication studies, has been helping to build MSI's presence since he followed his sister, Alejandra, to Stan State as a first-year student in fall 2020 and was hired as MSI Coordinator Miguel Jimenez's first student intern. 
He has greater belief in possibilities as he recruits more students, and he'll have assistance. 
"The last 30 minutes of the conference we circled with our own group, and we talked about why this was important and what we as an organization and as individuals can carry back to Stan State," Cabrera said. 
"The conversation was so rich," Jimenez said. "What this conference did was connect 10 random guys, and those last 30 minutes really ignited a strong passion from them to move forward. I think they are an important piece for the leadership needed to continue to advance the work." 
More importantly, the consortium profoundly benefitted the students, who attended with financial support from the offices of Vice President for Student Affairs Christine Erickson and President Ellen Junn. 
It introduced Richard Stoeckl, in his first semester as a psychology major, to MSI. The 30-year-old was released from 10 years in prison on Sept. 11, 2021, and enrolled at Stan State with help from Project Rebound and its coordinator Danica Bravo, who recommended Stoeckl for the conference. 
He lives in his native Stockton with his girlfriend, who is expecting their child in September. His full-time job limits him to taking two remote classes, so he hasn't enjoyed on-campus student life. He earned his associate degree while in prison. 
Stoeckl laughs easily and willingly shares his story. On the ride to Sacramento to attend the consortium, his fellow passengers heard him share that story as he was interviewed by phone for a job. 
"I didn't get the job," Stoeckl said. "It was something I wanted so I could go to school full time. I got off the phone and it was quiet for a while, and then they were like, 'I really applaud you. You spoke better than I would have done in your situation.' I told them I just got out of prison. They were uplifting and supporting me. It was a positive experience." 
The support was genuine. When Stoeckl headed to the breakout session "The School-to-Prison Pipeline and the Role of the University," his fellow Stan State students followed him, and they occupied the first two rows of seats. 
"I almost cried. It was so beautiful," Stoeckl said. 
"I did attend that for Richard," said communications studies major Adrian Tennant, a fellow Black student who will graduate this month. "In the moment I didn't know how much it meant to him." 
While he attended that session for his new friend, Tennant, who grew up in Stockton and attended Delta College and Columbia College before starting at Stan State in fall 2020, was most inspired by the session "Stomping Out Stigmas to Seeking Support." 
"A lot of young men of color are conditioned to think they don't need help or don't need to seek help," Tennant said. "A lot of us come from a culture ingrained in toxic masculinity." 
Cabrera, too, connected with that session, but he also benefited from a lesson on networking and how to best present yourself. 
That hasn't been a big problem for Cabrera, who isn't shy. 
He met Tennant in the on-campus student housing and encouraged him to apply for a job with MSI. Tennant considers Cabrera and his circle of friends his best friends on the campus where he has spent his senior year. He took the job and has served as the student leader of the Black Male Alliance. 
Cabrera has helped recruit students to events and programs, including to the new Circulo des Hombres (Circle of Men), a gathering for Latinx men that was spearheaded by Juvenal Caporale, assistant professor of ethnic studies. 
Cabrera will continue that work with greater insight, but Jimenez said he saw even more value in the consortium that drew about 700 students, faculty members, administrators and staff from the 23 campuses. 
"The experiences were out of this world," said Jimenez, who was hired in 2020 and missed the first consortium held in 2019. "They had the opportunity to go to a Sacramento Kings game. These are experiences you are going to remember from college. It was an opportunity for critical learning and critical dialogue and networking and having fun."