Stanislaus State's Fall Sports Provided Plenty to Cheer About
Begun under the hot August sun and literally running until the first days of December, Stanislaus State's fall sports provided plenty to cheer about.
From the Women's Cross Country team advancing to the National Championship to the Volleyball team posting the most successful season in school history, Warrior Athletics teams announced their return loud and clear.
"This has been a very exciting time for Warrior Athletics," said newly named Athletics Director Aaron Allaire. "Last year we were just coming out of missing an entire year of competition due to the pandemic, and I think some of our programs needed time to rebuild and get back into a more normal mode for athletic participation.
"This fall, our teams were eager to compete, and they have represented our University well. To have two teams earn conference championships and one team a West Region championship in one semester is amazing. Our fall sports have energized the rest of our department, and I look forward to what can be accomplished the rest of the year."
The Warriors' fall success was led by Darren Holman's Women's Cross Country team, which finished 18th in the NCAA Division II National Women's Cross Country Championships in University Center, Wash. on Dec. 2. They had previously won the West Region and California Collegiate Athletic Association championships.
Senior Kaela Dishion became the Warriors' third All-American in cross country by finishing in the top 40 at the national meet. She was 34th in the 6K race with a time of 21:16.5.
Dishion was followed by teammates Najwa Chouati, who was 54th in 21:321, Kayden Legan, 113th in 22:30.2, Yahaira Zuniga, 138th in 22:32.0, Haleigh Humble 174th in 22:54.4, Bela Moreno, 224th in 23:51.7, and Katarina Borchin, 245th in 24:27.
It was the second consecutive trip to nationals for the Warriors, who entered the championships ranked seventh in the nation.
The Warriors reached the national championship by winning the West Regional in Billings, Montana, as four Warriors placed in the top 25.
Dishion (fifth), Chouati (sixth), Legan (10th) and Zuniga (18th) earned All-Region honors for their efforts.
Additionally, Holman was named the United States Track and Field Cross Country Division II West Region Coach of the Year. Holman previously was named California Collegiate Athletic Association Women's Cross Country Coach for the second consecutive year.
Men's Cross Country
The Warriors advanced to the NCAA Division II West Regional Championships, where they placed 14th in the 21-team field. Medhane Woldu paced the Warriors with a 50th-place time of 31:43.2 in the 10K race in Billings, Mont.

Stan State reached the West Regionals after finishing fourth at the 2022 California Collegiate Athletic Association Men's Cross Country Championships in Carmel. Woldu led the Warriors with a third-place time of 24:52.8 to earn All-CCAA honors. Teammate Cristian Alcantar was All-CCAA with a 14th-place finish, and Cooper Freeman was named the CCAA Freshman of the Year as the top freshman finisher with his 30th-place time of 26:11.3.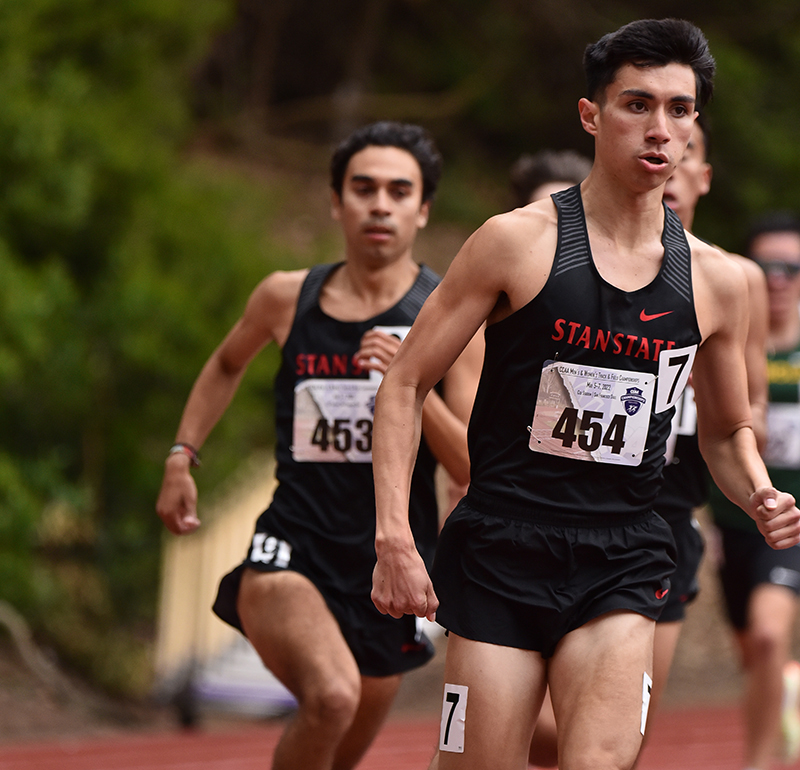 Golf
The fall season was a success for Stan State as it completed four tournaments and ranked third in the West Region and 21st in the NCAA Division II Golfstat National Rankings.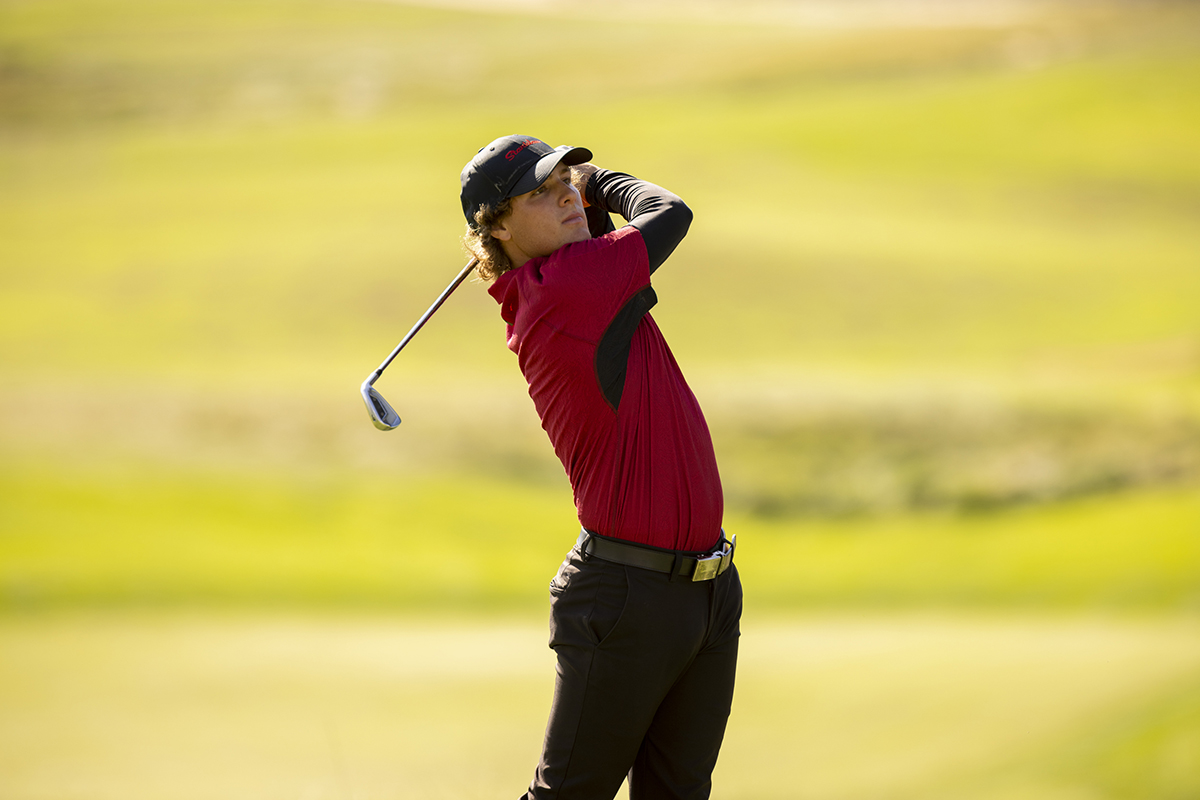 Chris Ebster began the season as the No. 1 golfer in the nation following his second-place finish at the Chico State Wildcat Classic, where he shot 131 over two rounds. He then tied for first place at the Hawaii Pacific Shark Shootout, shooting a 7-under on the second day to move from eighth place to first.
Nate Jetton had a successful fall season as well, winning the Dennis Rose Invitational at Hawaii Hilo, which earned him CCAA Golfer of the Week honors and moved him into second place in the West Region rankings and ninth nationally.
Men's Soccer
Several post-season honors were awarded to members of the team that went 5-7-6.
Stan State senior forward Josh Santillan was named to the 2022 Division II Conference Commissioners Association All-West Region Second Team as voted by the region's College Sports Communicators. He also was named All-California Collegiate Athletic Association Second Team. Finn Hoffman was All-CCAA Honorable Mention.
Hoffman, Daniel Gomez and Bradley Magnussen were named to the 2022 Academic All-District Men's Soccer Team, selected by College Sports Communicators. The award recognizes the nation's top student-athletes for their combined performances on the field and in the classroom.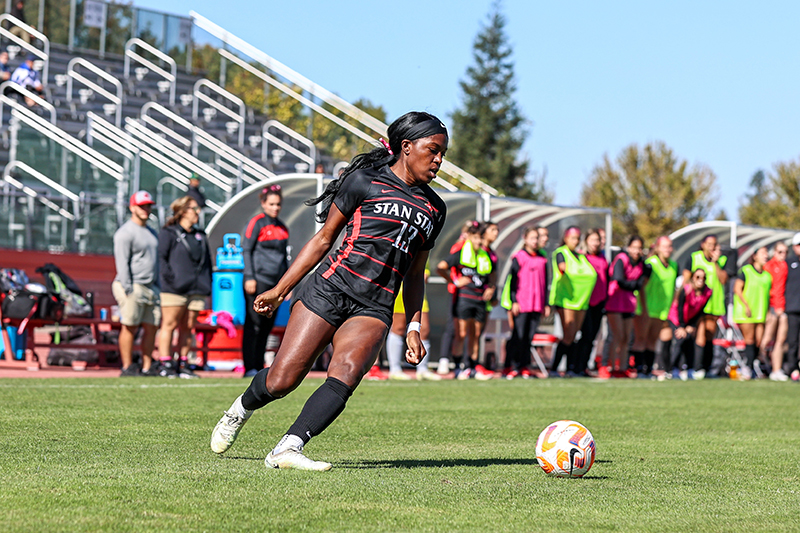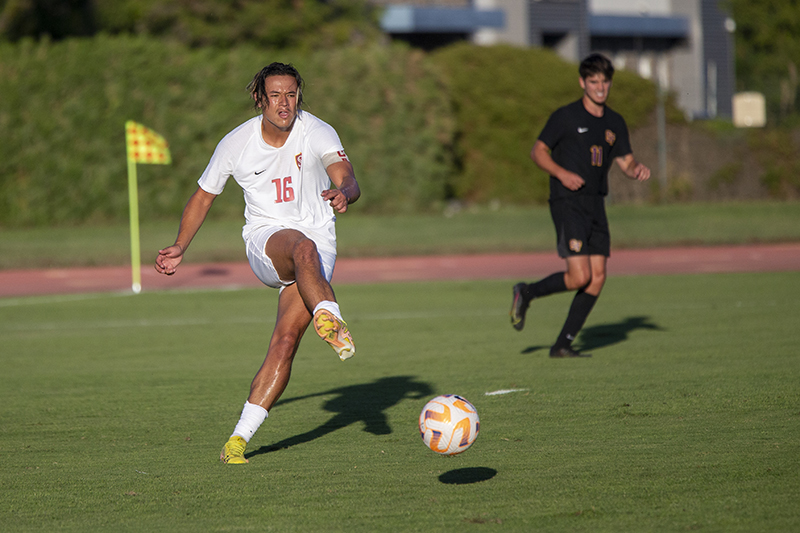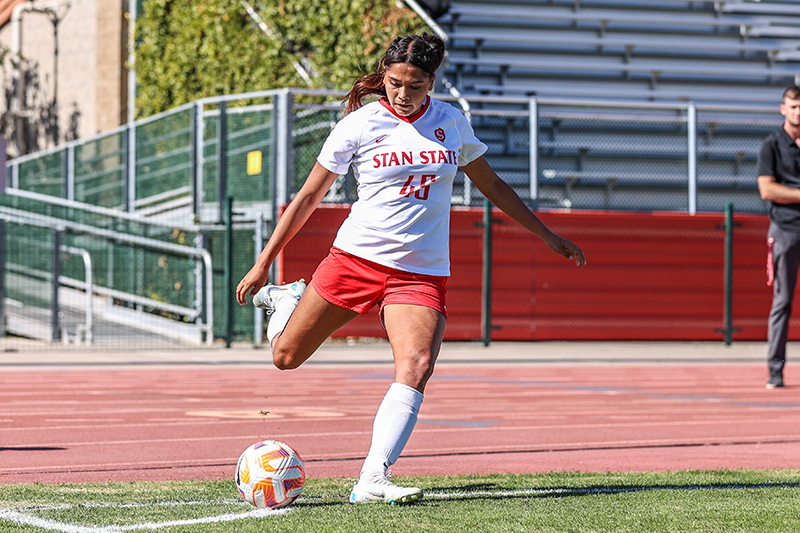 Women's Soccer
Stan State battled to a regular-season tie for first place in the California Collegiate Athletic Association (CCAA), beating Cal State East Bay in the final regular-season match to gain the title.
The Warriors then lost a heartbreaking 1-0 match to Cal State L.A. in the conference tournament semifinals to finish its season at 10-4-4 and 7-2-2.
Several postseason honors recognized outstanding Warriors.
Stan State junior midfielder Alexis Brewah and junior forward Sabrina Cabrera were named to the 2022 United Soccer Coaches NCAA Division II All-West Region Team.
Brewah, a transfer from San Joaquin Delta College, led the team with 10 goals — including two game winners — and nine assists. She was named CCAA Newcomer of the Year, was All-CCAA First Team and First Team Division II Conference Commissioners Association All-West Region.
Cabrera, a teammate of Brewah at Delta College, was the CCAA Midfielder of the Year and Second Team All-CCAA honoree. She was named to the Second Team Division II Conference Commissioners Association All-West Region Team. She scored seven goals for the Warriors.
Warriors junior goalkeeper Alexia Estrada, junior midfielder Jackzeny Mancilla, senior midfielder Summer England and senior defender Jocelyn Lopez were named All CCAA Honorable Mention.
Additionally, sophomore midfielder Alisha Garcia and sophomore defender/forward Ycela Ochoa were named to the 2022 Academic All-District Women's Soccer Team, selected by College Sports Communicators.
Volleyball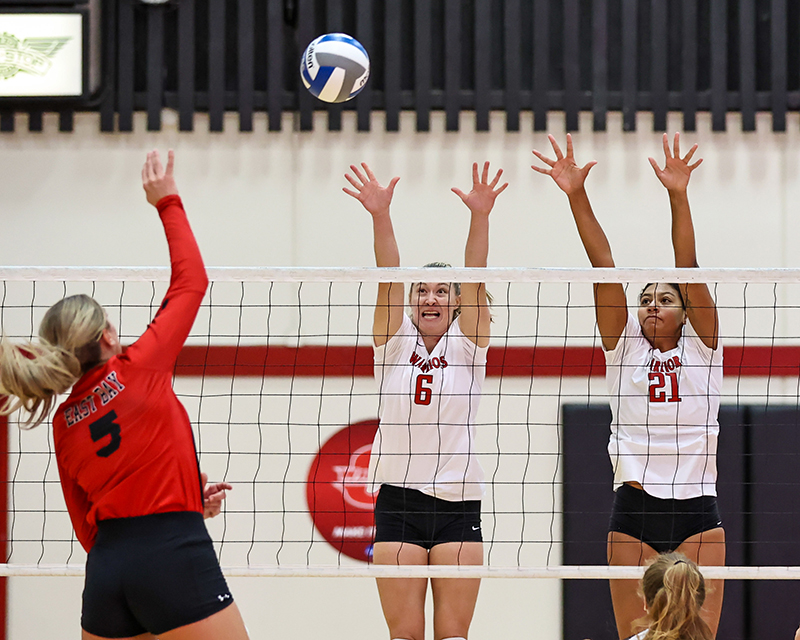 New head volleyball coach Lauren Flowers and her assistant coach and husband Steven Flowers, were hired in February, and their mission was to establish a winning program.
Not only did the Warriors produce the sixth winning season in program history at 19-10, 10-8 in the California Collegiate Athletic Association (CCAA) and its highest-ever winning percentage of .655, but the performance of the players led to post-season recognition.
Junior libero Gabby Rawson, who came to Stan State from Rancho Cucamonga after a year at University of Nevada Las Vegas, was named to the All-West Region team after leading the CCAA with 4.93 digs per set and a conference-leading 444 digs. Her season digs total ranked fourth on the Stan State all-time list and 41st in the nation.
Prior to the All-West Region Team honor, Rawson was named CCAA Libero of the Year and All-CCAA First Team.
Senior outside hitter/middle Macky Morris was Second Team All-CCAA and sophomore middle blocker Alex Byrd earned CCAA Honorable Mention for her defensive play.
Post-season accolades also went to sophomore setter Haley Burdo, sophomore outside hitter Makenna Carillo, Byrd and senior right-side hitter Cassie Corbett, who were named to the 2022 Academic All-District Women's Volleyball Team by College Sports Communicators.
The award recognizes student-athlete achievements in the classroom and on the court.