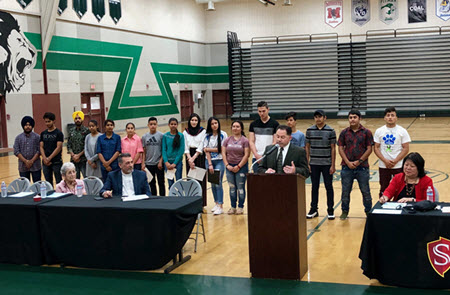 Contributed by Ann Strahm
Turlock teens and civic leaders came together to Stand Against Hate, the first event of the City of Turlock and Stanislaus State Joint Taskforce on Diversity and Inclusion. Student and community speakers headlined the event, held April 24 at Pitman High.
Congressman Josh Harder, Turlock Police Chief Nino Amirfar and representatives for Assemblyman Heath Flora, the Assyrian American Civic Club, NAACP, and Muslim, Sikh and Christian faith communities brought their voices.
"I hope after tonight, people have a greater awareness of the diversity and beauty of so many different people with many different views," Stan State President Ellen Junn said at the gathering.
The event showcased the diversity within Turlock and the commitment of elected officials, city government and the University leadership to valuing all people and recognizing the cultural fullness these differing views and backgrounds bring to our region, Junn said.
City and University leaders created the Taskforce for exactly these purposes — bringing civic leaders together to champion diversity and improve the understanding and acceptance of all cultures. It was formed Sept. 11, 2018, following two years of alt-right rumblings and counter-protests on the Turlock campus, in the community and around the nation.
The charter of the Taskforce unites the city and the University in a pledge to work together to coordinate, encourage and implement initiatives and activities to promote an inclusive community that reflects the rich and diverse experiences, values, world views and cultures in our city.
"This is something in which we believe strongly, and many students have spoken out to bring attention to these needs," Junn said at the time the Taskforce was formed. "A formal partnership to address these needs on a citywide basis is an important step for everybody."
Turlock City Manager Bob Lawton joined the effort saying, "By joining campus, city and citizens in common cause, we raise understanding and reduce the fear of the unfamiliar."
Stand Against Hate was the first public event for the group. In addition to its behind-the-scenes work, the group intends to host other lectures, events and activities to build stronger relationships among stakeholders and safety organizations.