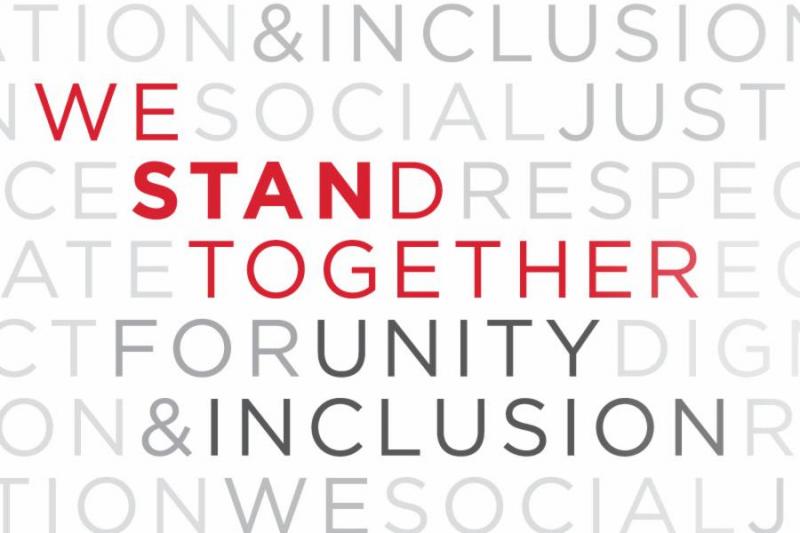 Hate crimes, free speech and courageous conversations headlined
Unity & Inclusion Week
, a University initiative to address and counteract divisive and controversial issues through education. The week's activities were designed to teach strategies and engage students in the difficult conversations that challenge the merits of offensive, hateful and exclusionary ideas and speech.
The week wrapped up Friday with empowering words by KWIN radio personality and motivational speaker Amanda King, who urged students to see themselves as leaders.
Starting a difficult conversation takes courage, she said. "You have to dig into your core, because that's a big part of whether or not your message is going to be impactful," she said. Words are only a part of communication. Tone matters more. Body language counts.
"There's no courage in dominating a conversation," she said. "Any time you're talking with anyone, listen. Validate. Acknowledge." Build understanding, then disagree with civility. "'Here's my perspective' — there's the transition. That's how you can have a courageous conversation that's not combative," King said. 
"If you want your message to be heard, number one, let it be a message you believe in," King said. "Organize your words. Have the proper tone. Be mindful of your body language. But the part that I want to add is your essence," referring to how the speaker is perceived. 
"A leader is a person who has the ability to influence someone else. What kind of influencer are you going to be? It's going to take you deciding to be a positive, impactful person. Because the loudest person, the person making a scene, their message is not always well-received," she said. "You're going to have to think about the packaging."
King's presentation followed daily events focusing on building skills and confidence in addressing hate speech, a pressing topic nationally. The issues hit close to home at Stan State, where a majority of students identify with groups who are frequent targets of hate speech, directed at ethnic or racial identity, immigration status or sexuality.
Hate speech is not a crime, however, pointed out Monday's speaker, Criminal Justice Professor Phyllis Gerstenfeld. Wrecking property or assaulting people is breaking the law, she said, "Nobody has a right to not be offended."
It is estimated that less than a third of hate crimes are reported and only a fraction of those are prosecuted, she said. Those who commit hate crimes are not necessarily in hate groups, which tend to be more social outlets with very high turnover.
Speech — even if rude, crude or hateful — enjoys tremendous protection, noted Tuesday's speaker, Shannon Stevens, assistant professor of communications who teaches about First Amendment protections. "You can express your beliefs, but you have to accept the duality of that," she said.
To test the limits of free speech, there has to be some concrete evidence of a threat, Stevens said. For example, many in the alt-right march in Charlottesville, Va., wore body armor and carried clubs, suggesting they were more prepared for violence than meaningful discussions. 
Faculty members Aletha Harven, Dana Nakano and Xamuel Banales tackled ways to turn shouting matches into conversations on Thursday. In a series of student and faculty skits they probed problematic communication styles.
In one, students in a study group found themselves on opposite sides of the NFL controversy over kneeling during the national anthem. Audience members offered ideas on why it ended badly: "Viewpoints were ignored." "She felt ganged up on."
How could it have gone better? Strategies suggested included finding points of agreement. Discussing views without insisting only one is right. Agreeing to disagree and moving on. Asking open-ended questions, and giving historical context and facts behind opinions.
But on Wednesday, focus turned from speech to quiet, with a ceremonial two minutes of silence around the Stan State Peace Pole. The exercise continued a civil rights legacy of protest through non-violent presence, from sit-ins of the 1960s to taking a knee at the playing of the national anthem, said Kilolo Brodie, chair of the Social Work Department and the President's Commission on Diversity and Inclusion.
"Silence poses an opportunity for thoughtfulness, solace and allows time for critical thinking," Brodie said, asking participants to use the time to reflect on hopes for the University and the legacy of their time at the campus.
Provost Kimberly Greer unveiled the No Hate Campaign slogan, chosen by a campus survey of more than 1,500 votes, "We STANd Together for Unity and Inclusion." 
"We STANd together in solidarity to bring about positive change in our social world," Greer said, noting that unity and inclusion bring synergy. "We achieve more together."
In the weeks to come, the campus will continue the conversation around difficult topics. The University is intent on engaging with all community members in meaningful ways that support the values and strengths each individual brings to the campus.