Grant Funds Conference to Encourage More Gardens, Sustainable Action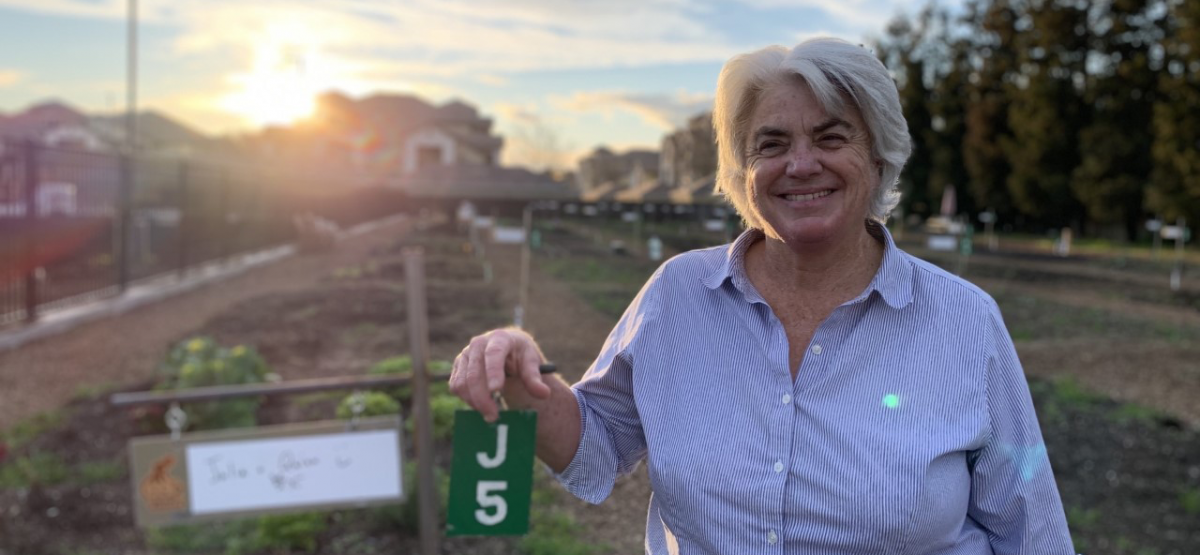 Geology/paleobiology Professor Julia Sankey knew in January she wanted to enter the Faculty Early Retirement Program (FERP) and teach half-time, but she worked relentlessly throughout her final full-time semester.
In addition to using a campus research (RSCA) grant to study the effects of Stanislaus State commuters on local air pollution, Sankey used an Innovate, Design, Excel and Assess for Success (IDEAS) grant to create a free conference about community and school gardens.
The day-long March event, "Rooting for Change: Urban Agriculture in the Central Valley," drew 44 people, many of them local teachers interested in creating school gardens.
As she did when she created Turlock Community Gardens in 2020, Sankey turned to graduate student Melissa Been for assistance.
The Stan State graduate who has completed the Master of Business Administration she was working on when she began volunteering with the garden, joined fellow graduate student Alex Tagge in organizing much of the conference.
"The main purpose was to inspire and educate others about the benefits of community food projects and sustainable urban agriculture," Been said. "We chose speakers from various backgrounds in academia, public service, and community gardens. They shared their experience in starting and maintaining community and school gardens, composting organic waste, California pollinators, native plant species and much more."
Been used her MBA skills to create and manage the event's website, create online submission forms, take photographs and design flyers and the brochure. Tagge was charged with scouting the main presenters, enlisting leaders for the discussion groups and maintaining the list of attendees.
The work Been did was similar to what she did at the Turlock Community Garden, spreading the word on social media and creating videos to promote it.
When Tagge had to drop out for health reasons, Been took on his duties, coordinating speakers and securing use of the Carnegie Arts Center.
The keynote speakers were Stanislaus State Professor of Sociology Tyler Schafer ("Practicing Community and Committing to Place: Reflections on the Social Aspects of Urban Agriculture"); UC Merced Professor Rebeca Ryals ("Compost as a Climate Change Solution"); Anne Schellman of the University of California Cooperative Extension Stanislaus County Master Gardener Program ("Protecting Pollinators") and Everett Leon-Guerrero ("Supervising a Community Garden").
They and the leaders of the small-group discussions focused on the value of community gardens. Sankey points out that community and school gardens not only help with food security but improve the environment.
A member of Stan State's Council for Sustainable Futures, Sankey said she's spent the past five years reading about the climate crisis. When the pandemic hit, she started reading "Bending the Curve, a free UC Press textbook on the climate crisis.
"One influential chapter in the book is on local solutions, and it focused on UC San Diego and about how to make communities more resilient with community gardens, forests, and green infrastructure."
That was the impetus for the Turlock Community Gardens and with a team of other volunteers, the garden was created in 10 months.
That story and the broader story of community and school gardens and their potential impact on communities were the focal points of the conference.
"The conference was a great success," Been said. "It was so exciting to see people from all walks of life. There were public school teachers, gardeners, students, university professors, county workers, and so on. After the main speakers gave their presentation, there were four discussion groups and people were able to network and share their own experiences and advice. It was incredible."
Been, who has boys aged 6 and 8 and is teaching how to garden, will continue her work with the Turlock Community Gardens.
"I am contemplating applying for a Ph.D. program," Been said. "I plan to continue to use my education and experience toward work that increases food security and strengthens local communities. Being the Turlock Community Garden board secretary has been rewarding work. It's incredible that amidst a pandemic, a beautiful community garden bloomed."