Writer Anna Malaika Tubbs Turns Doctoral Thesis into Tome About the Moms of Civil Rights Icons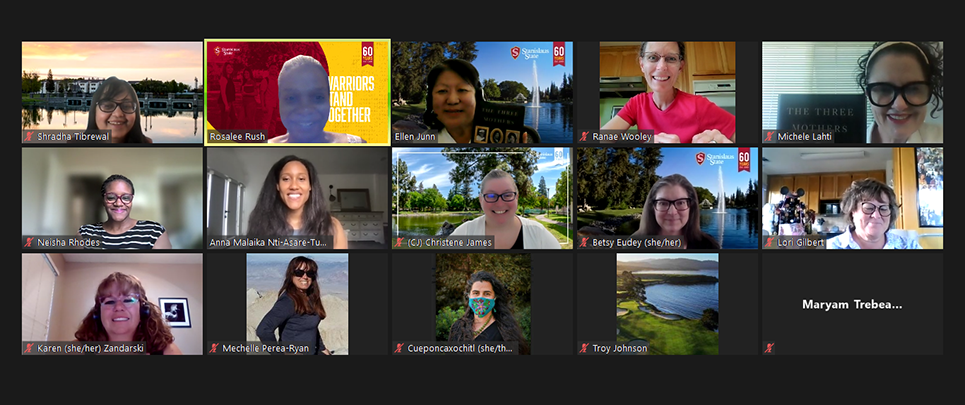 What started as her doctoral thesis became Anna Malaika Tubbs' book, "The Three Mothers: How the Mothers of Martin Luther King, Jr., Malcolm X and James Baldwin Shaped a Nation." The author shared her experience with the Stanislaus State Women and Leadership Series book club on June 28 during a virtual discussion. 
"The thesis is much different from the book, but I wanted the public to know about these women," Malaika Tubbs said. 
All three women held great sway over their sons, yet their roles are largely ignored. Malaika Tubbs spent three years digging for information, in some cases finding letters or documents or gaining brief access to surviving family members, who carefully guard the legacy of their departed loved ones.  
"One of the things that's special about her book is mothership as a leadership role, and I think she was really able to demonstrate how important this leadership role was to the shaping of the trajectory of the lives of these three sons, but also to the movement-making for Black communities," said Professor Betsy Eudey, gender studies director, who, with Shradha Tibrewal, organized the Women and Leadership Series book discussions.  
"In so many ways women — Black women in particular — have been excluded from formal, official roles in workplaces and organizations, but they still engage in such powerful role modeling, leading and envisioning, and I think the book highlights that," Eudey said. "It also highlights the fact that we don't have a lot of documentation on the great work women have done historically and are continuing to do." 
History is often written by men, and frequently ignores women. Malaika Tubbs' discovered just how scant information was on these three women — contemporaries who never met, yet individually raised sons who would be profoundly influential in the U.S. civil rights movement. 
She persevered, though, and now Malaika Tubbs hopes hers is a step toward bringing the story of women in history to light. 
She has experienced slights firsthand. 
A student at Stanford University when she first met her future husband Michael Tubbs, Malaika Tubbs said she was recognized for her own accomplishments when she was on campus. However, when she joined him in his hometown as he began campaigning for a seat on the Stockton City Council, she was stunned by the reaction. 
"They called me a trophy girlfriend hiding behind his success," she said. 
But Michael Tubbs knows better. He constantly credits his mother, grandmother aunt and his wife for making him the man he is. Often, the focus of Michael Tubbs' story is on his father, who has been in prison for most of Michael's life. The two did not have a relationship until recently. The three women who raised Michael Tubbs helped him move beyond poverty and his South Stockton environment to earn a scholarship to Stanford University. 
There, he met Malaika Tubbs, who was raised by two attorneys who worked around the world on behalf of women and children, among other issues. She returned to the United States in high school and was surprised to discover what wasn't taught in schools about American history. 
The battle for authentic history continues. She noted some are trying to replace the word "slave" with "laborer" and the ongoing debate about critical race theory. 
Malaika Tubbs will continue to share stories. She has a novel nearly complete, a children's book planned and is in discussions for a television deal to bring "The Three Mothers" to the screen. 
"Her work isn't only about Black motherhood but is about looking at all of the things that bring social justice to our communities," Eudey said. "One of the lenses that we can use to address social justice is through Black motherhood. What's great is she is looking at societal issues and systems and not just personal choices. This book is one lens to do that. Other work she is doing will bring additional lenses to those kinds of issues, and I think that is so necessary. And, she's doing it in a way that reaches broad audiences, which has a great opportunity for social change."