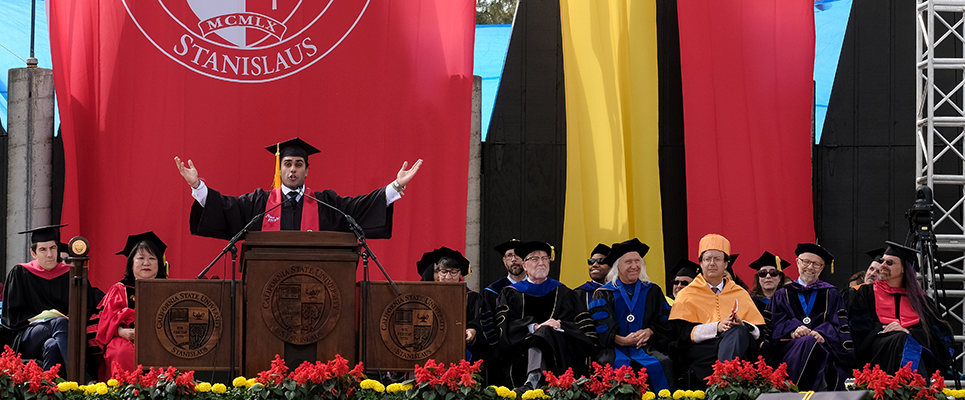 "It's showtime! Starting from now the world will be the witness of your train. The world will witness your work ethic, your pain, your love, your triumphs, your story. From today forth, the world will be the witness to the glory of The Class of 2019." – Stan State student commencement speaker Gurjoban Hayer.
---
During his years at Stanislaus State, Gurjoban Hayer went from dreading the idea of public speaking to addressing thousands as the student speaker at the College of Science commencement ceremony on May 24.
During the morning ceremony, Hayer, a Turlock native, urged his fellow graduates to thank those who supported them along the way, adding that with a diploma in hand they can set forth to chase their passions.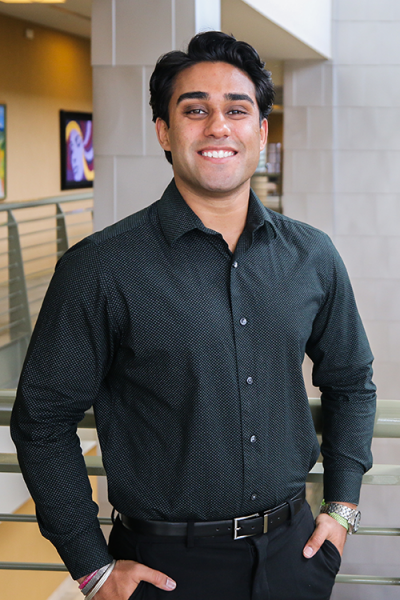 Hayer transformed his self-perception and overcame his fears through numerous speaking events, including the Founders Day Dinner, a vigil ceremony for a deceased fraternity brother in the University Amphitheater and a speech at Turlock's city hall for former Mayor Gary Soiseth. Through those experiences, he ignited a confidence to speak in any situation.  
Hayer also found confidence though his leadership experience as Theta Chi Fraternity president and his recovery from an accident six months earlier that briefly left him unconscious and with a fractured skull.
In his speech, he urged current and future Stan State Warriors to overcome their fears, push themselves academically and get involved socially to make the most of their Stan State experience. 
"Graduates of Stan State you now have the opportunity to stand on the world stage to lead and give back," he said.
Dr. Clarissa Lonn-Nichols, Special Assistant to the Vice President of Student Affairs and Student Conduct Administrator, said she has been impressed by Hayer's ability to remain focused on his education after enduring hardships and is in awe of his commitment to accomplish his goals. 
"To this day, working with Hayer continues to be one of the most special opportunities I've had to be able to support, encourage and work with a brilliant and selfless student leader," she said.