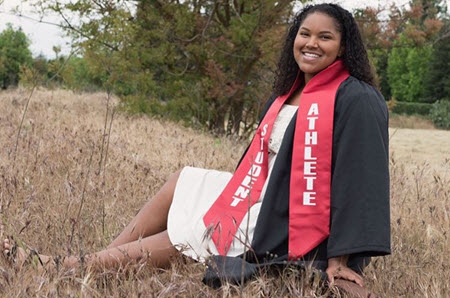 Stanislaus State graduate J'Ana Diamond, a former member of the Warriors women's tennis team, has been accepted into the Peace Corps and will depart for The Peoples Republic of China on June 13 to begin training as an English education volunteer. 
"My motivation is my love of travel and culture," said Diamond, who lives in San Diego. "I love to learn and immerse myself in different cultures." 
Diamond is the daughter of Ana Diamond of San Diego and a graduate of West Hills High School in Santee. She earned her bachelor's degree in English with a minor in anthropology from Stan State in 2017. Prior to joining the Peace Corps, she was the boys' head tennis coach at Patrick Henry High School and girls' head tennis coach at West Hills High School. She also worked as a substitute teacher in La Mesa-Spring Valley School District. 
During the first three months of her service, Diamond will live with a host family in China to become immersed in the country's language and culture. After acquiring the necessary skills to assist her community, Diamond will be sworn into service and assigned to a community in China, where she will live and work for two years. 
"I hope to become fluent in Mandarin and help my students learn English," Diamond said. "I'm looking forward to being a part of the culture and experiencing cultural events and holidays, meeting new people, and going on adventures to new countries." 
Diamond will work in cooperation with the local community and partner organizations on sustainable, community-based development projects to improve the lives of people in China and help Diamond develop leadership, technical and cross-cultural skills that will give her a competitive edge when she returns home.  
Diamond joins the 836 California residents currently serving in the Peace Corps and more than 31,723 California residents who have served in the Peace Corps since 1961.