Note: This article is part of the StanGrad series highlighting Stanislaus State students who will graduate this spring. Read more StanGrad profiles.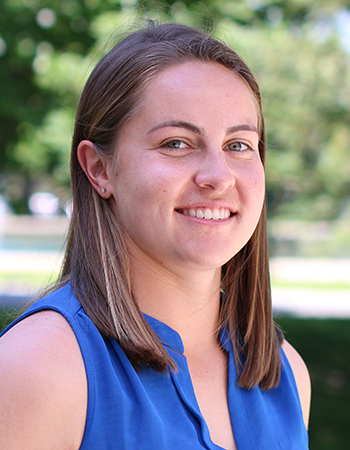 Channing Wilson's college career has been a model of how academics and athletics can run hand-in-hand.
She came from Turlock High simply looking to do her best in the classroom, to learn something new every day. And now, she is in position to graduate near the top of her class with a degree in kinesiology, with only a single A-minus over four years keeping her from a 4.0 GPA.
"I was taking chemistry at the time and I was really focused on the chemistry course," said Channing, selected this spring as an American Kinesiology Association Undergraduate Scholar for 2016. "I didn't know at the time that an A-minus could mess with your GPA."
Wilson also applied the philosophy of getting a little better every day to athletics. She played soccer and ran on the cross-country team in high school, but walked-on to the Stanislaus track and field team as a freshman. After a year of learning the ropes in the throwing events of javelin, hammer and shot put, she'll be representing the Warriors later this month at the NCAA Division II National Championships in Tampa, Florida. It will be her third straight trip to the national meet, and she'll be vying to earn All-American honors for a third time.
"I surprised myself my second year here when I placed in conference and made the national meet," said Wilson, a two-time conference javelin champion. "I didn't expect anything, I just tried to improve myself every week."
Wilson has taken on another challenge in the last year. She's one of four kinesiology students who organized the 100 Citizens program, a fitness effort the University has undertaken with the City of Turlock Parks and Recreation Department. The program brings free fitness sessions for residents of all ages to a local park.
"This semester has been a challenge because in addition to classes and track I've had a lot of interviews and have been answering a lot of emails for 100 Citizens," she said. "It's been more work than I expected but it's been a good experience for me."
Wilson plans to continue her education in the field of physical therapy, most likely at Sacramento State, Fresno State or the University of the Pacific.
But first things first. There's a national meet in which to compete, even if the joy of qualifying is tempered by missing commencement with her classmates, since the events occur on the same weekend.
"I can't walk the stage because I'll be at nationals," she said. "I would have walked, but I won't be here."
---
#StanGrad File
Hometown/High School
Turlock/Turlock High, CA
Degree/Credential
Bachelor of Arts in Kinesiology
What memories stand out most from your time at Stanislaus State?
"School-wise, what stands out is the memory of my first semester here. Even though this is a smaller school and it's in my hometown, I still had to learn the campus and meet all the new people. Getting comfortable here and making this my home has been a nice experience. The track experiences always will stand out."
Which faculty or staff member had the greatest impact on you, and why?
"Dr. (Erin) Hall, the chair of the kinesiology department. She represents all of the professors in the department in the way she showed so much belief in me. I was just doing what I thought would be necessary to succeed in college, and my professors told me that I was going above what was required. They showed me that I had the capacity to achieve more."
What advice would you give to current and future students?
"I was a shy student when I started, so I'd encourage them to take the extra step to get involved and to take advantage of the opportunities available here. But also I'd tell them that while they're doing that, it's important to maintain a balance. Every time you take on an experience, a new opportunity will open up, and every opportunity is a chance to learn about yourself."