Note: This article is part of the StanGrad series highlighting Stanislaus State students who are part of the Class of 2017. Read more StanGrad profiles.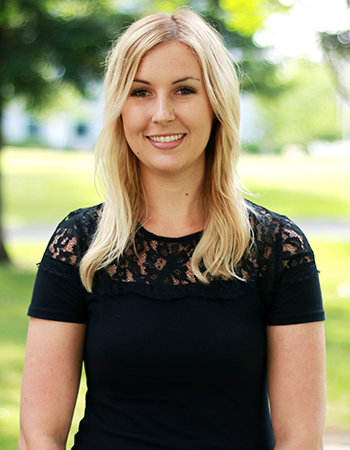 Mallory Velarde started her Stan State journey in 2009. However, enrolled as a mathematics major — a subject she had both a passion and an affinity for — Velarde struggled to see the end goal.
"While math had always been both my favorite and strongest subject, I did not know exactly what I aspired to do with a math degree, which made it difficult to remain motivated," Velarde said.
As a result, Velarde withdrew from classes in 2011 and pursued a cosmetology license instead. She began work in a salon and married her high school sweetheart (a fellow Stan State alum). Starting a family was on the horizon.
"While in my heart I always had the intent of returning to college to finish my degree, I knew the statistics were not in my favor," Velarde said.
But Velarde did not let statistics define her. After more than three years away from the University, she decided to return to Stan State and pursue the mathematics degree she had always planned on receiving.
"I felt that something was missing from my life, and while I truly loved working in the salon, I could no longer ignore my desire to go back to school," she said. "With my husband's full support, I began the process of making my goal a reality."
A month into her first semester back, Velarde found out she was pregnant — with twins. Ecstatic to grow her family, she worried the change might derail her path to a college degree once again. But with aspirations of becoming a teacher, Velarde found the motivation to stay the course.
"In spite of all the demands on her time, she remains one of the top students in the class," Mathematics Professor Brian Jue said.
After graduation, Velarde hopes to enter the Single Subject Credential Program and become a math teacher, helping future generations discover a passion for the subject she has always loved.
"I am proud of my journey at Stan State because it was not a perfect one, but it was perfect for me," Velarde said. "I have learned and grown so much during my time here, and am thankful for every bump along the road because they have helped shape me into the person I am today. My only hope as a future educator is that I can give back to society by positively impacting my students' lives, the way that many of my professors have impacted mine."
---
#StanGrad File
Degree/Credential
Bachelor of Arts in Mathematics
What memories stand out most from your time at Stanislaus State?
"I will never forget the feeling I experienced when I stepped foot on campus to attend my first class back at Stan State, after taking over a three-year break from college. It sounds cliché, but I felt like I was finally home, only I had returned with a new mindset and a much greater appreciation for school."
Which faculty or staff member had the greatest impact on you, and why?
"Of all of the amazing professors in the Department of Mathematics at Stan State, Dr. Brian Jue has had the greatest impact on me. Whether it was attending math conferences, participating in the Putnam Mathematical Competition, joining Pi Mu Epsilon, or even just keeping the math majors informed about department events, he has consistently been a source of information and encouragement during my time as an undergrad. Each time I have taken a course with him it was my favorite course of the semester."
What advice would you give to current and future students?
"My advice to current and future students would be: 1) always have a goal and a plan, but remain flexible and open-minded; 2) Utilize your professors as they are here to help; when we succeed, they succeed; and 3) make friends and form study groups!"