Note: This article is part of the StanGrad series, highlighting CSU Stanislaus students who will graduate at commencement ceremonies May 29 and 30. Click here for more.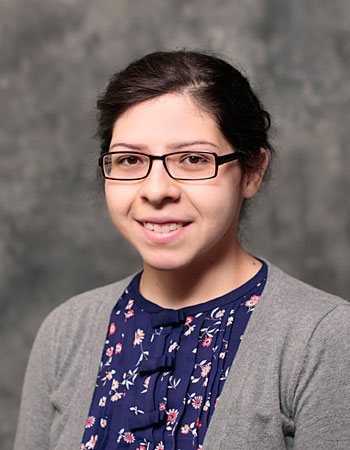 Maria Pantoja's story will sound familiar to many CSU Stanislaus students.
Born in Mexico, Pantoja's family moved the United States when she was 5 years old. She was raised by farmworkers and even picked berries herself as a child. Her parents, wanting greater opportunities for their children, emphasized the value of education and urged her and her sisters to go to college.
"My parents viewed education as the gateway for earning a decent income, providing for yourself and bettering your prospects," Pantoja said. "Their experience in poverty influenced them to push us to get an education, and for that I am very thankful." 
The path Pantoja took once she arrived at CSU Stanislaus, however, set her apart from most of her peers. She discovered a love for political science, and she has since achieved great success as a Hispanic woman in a field not typically noted for its diversity.
This week, she'll graduate with her bachelor's degree in political science.
"My family was never very interested in politics, and it was rarely discussed at home, but I had always liked following world news," she said. "Then I took a course in Comparative Politics focusing on the Middle East. That class really sparked my interest, and I found my niche."
As a political science major, Pantoja has thrived. She won the Outstanding Student in Political Science award in 2012-13 and is considered by the department's faculty members to be one of their best students in recent memory.
Now Pantoja, who also minored in philosophy, is headed to UC Davis, where she plans to pursue a Ph.D. with a focus on International Relations and Comparative Politics. She eventually wants to work as a professor or in research.
"I believe the classes I've taken in both political science and philosophy have prepared me well for my future endeavors," Pantoja said. "I had really great professors who encouraged me and who saw potential in me, and I am very glad that I came to CSU Stanislaus because of this."
---
#StanGrad File
Degree/Credential
Bachelor of Arts in Political Science
What memories stand out most from your time at CSU Stanislaus?
"I honestly can't pinpoint a specific one. I have had a good time, met very smart, inspiring, engaging and fun people, had excellent professors, and for the most part enjoyed my classes. My experience at CSU Stanislaus overall has been positive."
Which faculty or staff member had the greatest impact on you, and why?
"The professors who have had the greatest impact on me are As'ad AbuKhalil and Stephen Routh. They both got me greatly interested in politics and have both been very supportive in my academic endeavors and my plans for graduate school, and they have both been very encouraging."
What advice would you give to current and future students?
"The advice I would give to current and future students is to not be afraid to ask — for help, for advice, for guidance or whatever it may be. I personally was afraid to ask so many things, especially starting out, and I may have missed out on opportunities and resources. So I urge everyone to not be afraid or embarrassed, and ask for what you need."
James Leonard