Note: This article is part of the StanGrad series highlighting Stanislaus State students who are part of the Class of 2020. Read more StanGrad profiles.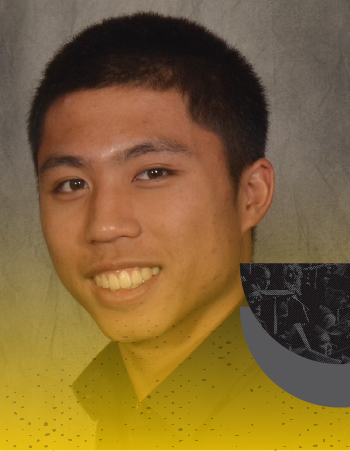 Whether it was a result of working toward his bachelor's degree in philosophy or growing up helping his family with its Sacramento-based adult care business, Ty Coloma has a distinct outlook on life.
"I can use my degree to understand life in a more meaningful way," Coloma said. "I have the ability to be there for people, no matter if I know them or not. I want to be able to let people know that we are all on this earth together, and we are there for each other. Putting a smile on someone's face or even letting someone walk away with a new perspective on life is the ultimate goal to show that we are all human. We're not all perfect, but we are all the same as humans, and there is nothing that can separate us other than what we make up in our minds."
Coloma chose Stan State, in part, because of its small class size and opportunity to engage directly with professors, but once he arrived from his Sacramento home, he joined the track team.
"The problems I faced as an athlete are carried into my academic career," Coloma said. "Starting my third season as a track athlete, there was a sense of a plateau in my progress. I felt I put in so much work but wasn't matching my distances and times from the season before. However, I just trusted my coach and my training to hopefully get to a point that I felt showed progress.
"By the end of the season, I proved to myself that the work I was putting in did prove beneficial and allowed me to get to a satisfied point. This can easily relate to school and all the hardships we go through. No matter how hard the class is or the difficulty of the assignments, the more studying and concentration that you put in will prove beneficial in the end to the grade you aspire to get."
Track Coach Troy Johnson describes Coloma as "a very hardworking young man that has decided to dedicate his life to the betterment of all he comes into contact with," and Coloma is proud to have borne the Stan State emblem on his chest. He also cherishes the friends he made from other campuses against whom he competed.
He leaves the University without a specific career plan, beyond "leading a meaningful life," but he carries with him an invaluable philosophy.
"The most powerful thing I have learned was to persevere and trust in my own ability" Coloma said. "The ability to persevere through tough times, through times that you feel you can't get anywhere, will prove the ability you have within yourself. The more you keep working, the more you put forth the effort, you can come out of the dark stronger."
---
#StanGrad File
Degree/Credential
Bachelor of Arts in Philosophy
What memories stand out most from your time at Stanislaus State?
"My time at Stanislaus State has brought many different memories from being involved in a club to being an athlete and carrying the Stan logo on my chest. Joining the Asian Pacific Islander Club my freshman year allowed me to create friendships that I thought wouldn't come to fruition. Most importantly, being a Stanislaus athlete has allowed me to create friendships with so many people not only at this school but also at many other schools across California. The time at Stanislaus as a whole, each year, has brought so many memories. The memory of attending this school is the greatest of all."
Which faculty or staff member had the greatest impact on you, and why?
"Throughout my time at Stanislaus, there is no one specific staff member that had the greatest impact. I feel that many staff members have had an impact on my life and my journey. One person I can definitely point to that had an impact on my life is my track coach, Mr. Troy Johnson. His guidance through my time on the track team and the different lessons he teaches us through the track and training resonate through different parts of my life. Coach Johnson took the time to give us all guidance if we need it and doesn't want any of us to fail either at school or at sports. Another person that has impacted my life are the Philosophy faculty. The faculty of the Philosophy Department has guided me through my work but also has given so many lessons that pertain to the life we have now. I also feel that the athletics staff has been by my side through all of this. It was always there to guide me through training and also academics."
What advice would you give to current and future students?
"There's a lot that I feel like I can say to both current and future students. However, I feel like some important advice I would tell them is:
1) Everything that is happening is happening for a reason. Take a deep breath. We all go through this and the finish line will come.
2) Enjoy your time while you're here. It may feel long for you to finish, but when you reach the finish line it feels time flew by.
3) Don't hold on to regrets. I say this because the more you regret and the more you worry of what could have happened, the more you find yourself behind the progress of your own success. Failure is inevitable, regret is common, but take those times and use it as way to move forward as a stronger person than before."