Note: This article is part of the StanGrad series highlighting Stanislaus State students who are part of the Class of 2020. Read more StanGrad profiles.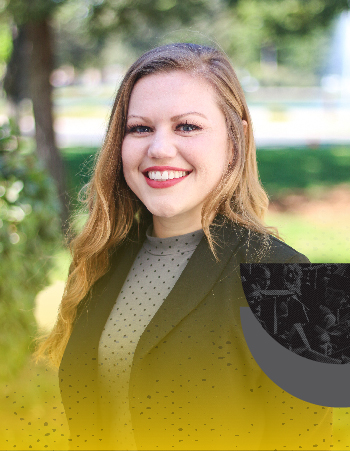 That Danielle Simpson Rojas should attend college, much less graduate from Stan State summa cum laude with a 4.0 grade-point average, and is prepared to begin a Ph.D. program at UC Merced is a testament to her strength, courage and fortitude.
Homeless and an alcoholic living on the streets of Oakland for seven years after graduating from Merrill West High School in Tracy, Rojas returned to the Central Valley, overcame her addiction and embarked on a path to the college education she'd always envisioned.
"You can choose a new start at any point in life," Rojas said. "Rock bottom became the solid foundation on which my life was rebuilt."
She enrolled at Modesto Junior College and was chosen as the valedictorian speaker at her graduation. At the suggestion of her mother-in-law, Monica Pope, administrative support coordinator in Stan State's Criminal Justice Department, Rojas applied for the University Honors Program, and was awarded a President's Scholarship to pay her tuition. Other scholarships covered the cost of books and other materials, so Rojas no longer needed to work 60 hours a week to pursue her degree.
"My parents didn't understand my passion for school, because I was the first to go to college and the first to earn a degree, so I had to get encouragement from people who understood the value of being a student," Rojas said. "I found this among students and faculty, my in-laws and friends who became family."
Rojas embraced all that Stan State had to offer.
In addition to establishing a relationship with Psychology Professor Kelly Cotter, who advised her on her research project studying the link between physical activity and cognitive function in seniors, Rojas became a McNair Scholar, was active in the Healthy Aging Lab and recently completed her tenure as treasurer of Psi Chi, the international honor society for psychology students. Rojas recently presented the results of her study at the systemwide CSU Student Research Competition. She also is a member of Phi Kappa Phi and was named Outstanding Student for 2019-2020 in psychology.
"I learned through my education that other people's actions don't define me. I am the only one who gets to define me, and that comes with a powerful lesson too," Rojas said. "I had to think about the person I wanted to be in today's world. I had to ask myself how I could be a loving human being, a community member who contributes to bettering society and a student who never stops trying. I learned what it meant to be authentic, to speak from the heart and to never stop fighting for what you believe in. That's what Warriors do."
Although she originally planned a career in health services, Rojas was hooked after her first psychology class and found she could combine both interests. She will pursue her Ph.D. in health psychology at UC Merced.
Rojas's future is a panorama of possibility.
"I love research, and I think a part of me will always want to do research," Rojas said. "I definitely want to teach too, so a position as a professor would be a good goal."
Whatever course she takes, she intends for it to wind through the region.
"The Central Valley is an underrepresented area in California, which is one of the reasons I chose to continue my education at UC Merced," said Rojas, who lives in Turlock with her husband and stepson. "They examine the needs specific to this area and see how they can conduct research to improve health behaviors and outcomes. I started studying physical activity and how this could improve cognitive function in a local retirement community as an undergraduate. I hope to expand this research as I move on from Stan State. The aim is to improve quality of life, and if I can contribute to this through research, I will have fulfilled my goal in pursuing higher education."
---
#StanGrad File
Name
Danielle Simpson Rojas
Degree/Credential
Bachelor of Arts in Psychology
What memories stand out most from your time at Stanislaus State?
"My fondest memories at Stan State were being a part of extracurricular activities on campus. The Honors Program, becoming a McNair Scholar, the Healthy Aging Lab and Psi Chi. They encouraged me to get involved with the community and I was able to network with students who shared common goals and faculty who inspired me to live out my dreams."
Which faculty or staff member had the greatest impact on you, and why?
"My mother-in-law Monica Pope, a staff member in the Criminal Justice Department, encouraged me to get involved with the University Honors Program and apply for every scholarship possible! This introduced me to Becky Temple and Dr. Ellen Bell of the Honors Program, who have been a tremendous support. Araceli García of the McNair Scholars program gave me all the resources I needed to be a successful candidate for graduate school. My mentor, Dr. Kelly Cotter, is a vision of everything I aspire to be as a person and an expert in the health psychology field. Dr. Dawn Strongin, who runs the Healthy Aging Lab, encouraged me to tackle every obstacle with the fortitude and diligence that I used to bring me this far, and Dr. Gary Williams, my Psi Chi advisor, taught me to always give 110%, not for the recognition, but because I deserve it."
What advice would you give to current and future students?
"Create a vision and follow it through until the finish line. Be a part of events on campus. Time in the classroom is only a small piece of your college experience. Create study groups. Keep a journal, a calendar, a dream board. Stay organized. Communicate with your professors; network with them because they have been exactly where you are now, and they made it out alive ... plus one day you may need a letter of recommendation from them. Walk around the campus; don't take for granted being on campus and soaking up the beauty of it. Wear red on Wednesdays. Be PROUD to be a Warrior! Have fun, make friends, take naps, eat healthy, stay active. Join clubs and research labs, ask for help, use the resources available to you, and always apply yourself!"