Note: This article is part of the StanGrad series highlighting Stanislaus State students who are part of the Class of 2017. Read more StanGrad profiles.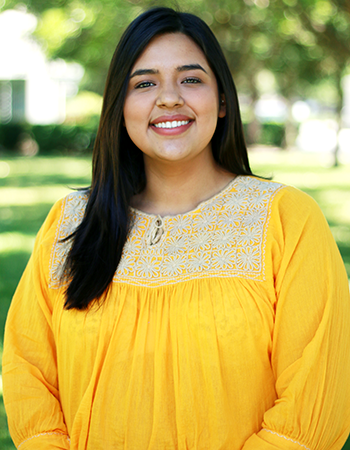 Alondra De La Cruz has always wanted to be a journalist. A first-generation student and U.S. citizen, Stan State was the only college within her financial reach, so she pursued a journalism minor with her communications degree. In the fall, she will follow her dreams of becoming a multimedia journalist by attending UC Berkeley for graduate school.
"When I look back at my experience here at Stanislaus State I see so many opportunities that came my way and that I took advantage of," De La Cruz said. In addition to getting on staff with the student-run newspaper The Signal, where she served two years as an editor and reporter, De La Cruz also worked at the campus radio station KCSS and interned at KCRA 3 News in Sacramento.
"Sacramento is two hours away from where I live in Newman, but I did not let distance get in my way. ," De La Cruz said. "If you want something, you need to go get it because everything is possible with hard work and dedication."
It's that determination that helped her graduate school application stand out, according to Shannon Stevens, a professor of communication studies at Stan State.
"Being accepted into Berkeley's Journalism school is no small thing — there are students from journalism programs all over this country who tried — and failed — to achieve what Alondra did," Stevens said. "And she did it with a minor from Stan State and a hell of a lot of moxie." 
Moxie, yes. And also De La Cruz is quick to thank those people who supported and helped her along the way.
"All of my achievements so far have been made here at Stanislaus State and I owe every single one of them to my parents, our faculty and programs on this campus," she said. "Now that I am heading to UC Berkeley this fall, as a first-generation Chicana, I am going to work as hard as I can to represent Stan State with honor and pride. My ultimate dream would be to work for Univision. I would love to give a voice to my community here in the Central Valley."
---
#StanGrad File
Degree/Credential
Bachelor of Arts in Communication Studies, with a minor in journalism
What memories stand out most from your time at Stanislaus State?
"Stanislaus State has been my home for four years and in those four years I have fallen in love with every piece of it. The memories I will cherish most are the friendships that I made on campus while working for our campus radio station KCSS and our campus newspaper The Signal. I created friendships with my peers and faculty members that will last a lifetime and I think that is what makes Stan State the most special. Because we are such a small campus, every student is showered with attention and support."
Which faculty or staff member had the greatest impact on you, and why?
"During my time at The Signal I learned so much from Dr. Shannon Stevens as well as the rest of the Signal team. I've always dreamed of being a journalist, but I had no idea how I was going to achieve it. There were times when I felt that I was not good enough. Dr. Stevens begged to differ. She saw potential in me and motivated me day by day. She was the strength that I needed on the days when I felt the most tired."
What advice would you give to current and future students?
"To current students, I would tell them that it is never too late. If you are almost done here at Stanislaus State but you've always wanted to join a school club or organization, do it! If you have always wanted to run for ASI office, do it! If you have always wanted to talk to a certain professor but you feel intimidated, do it! Never let intimidation be the reason why you do not achieve something."