Note: This article is part of the StanGrad series highlighting Stanislaus State students who are part of the Class of 2020. Read more StanGrad profiles.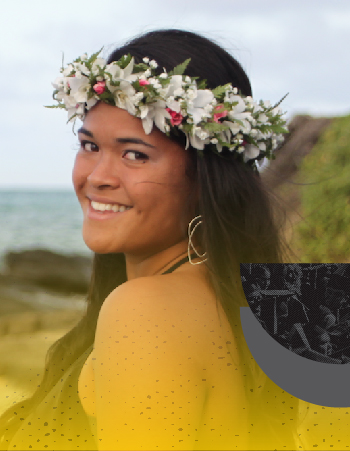 Lia Tom has not only been a hard-working athlete, but she has been a familiar face within the Stan State athletics community. For four years, this Warrior has shown her dedication to her team as well as her academics and jobs on campus.
A tradition now engrained in the Stanislaus State softball program, Tom was the first Hawaiian recruit to start a long line of talents that Head Coach Jessica Ventoza would bring to her team.
"I chose Stanislaus because I was assured that the Kinesiology Department was a top of the line academic program. Pair that fact with a softball scholarship — I didn't want to go anywhere else," said Tom, a native of Kailua, Hawaii, on the island of Oahu. "I also knew that smaller class sizes would provide the ideal setting for me to progress in."
Tom had an unpredictable and stressful schedule on top of being thousands of miles away from her family. There were many late nights of studying after long days of softball practice and work within the Athletics Department as a member of the game day event staff.
"Throughout my college journey, being dedicated and practicing time management were my two biggest assets. Even though there were moments that made me feel as if being successful was impossible, I made it through," said Tom, a finalist for the Warrior Athletics Female Scholar-Athlete of the Year Award.
Community was one of the biggest things that Tom learned at Stan State. She realized she wants to help others, which is why she is pursuing a career in physical therapy.
"My entire purpose of pursuing a career in this field is to change the lives of others. I've volunteered, I've been injured, I know the pain and work that goes into it. I know what it's like to have your independence taken from you and to gain it back all within the same year," said Tom. "If I worked with a professional sports team, then I would be giving those athletes exactly what I received several years ago. I would give them their life and identity back."
Ventoza has always said how positive and inspiring Tom is.
"Lia has been an exceptional student, always leading our team in GPA and in morality. She is always doing the right thing, one of the hardest workers in the classroom and on the field; Lia always has an exceptional attitude," Ventoza said.
With a strong mind and will to succeed, Tom is graduating this spring with her bachelor's degree in kinesiology with a concentration in exercise science.
"My student story is not one of poverty or misfortune, I was in fact very fortunate and lucky enough to come from a family that was able to financially support my college dream. However, that doesn't mean opportunities and success came easy to me. My experience and story is one that speaks to people about how hard work and dedication can bring you to success if you're willing to work for it," Tom said.
---
#StanGrad File
Name
Lia Kili Hiwahiwa Tom
Degree/Credential
Bachelor of Arts in Kinesiology with a Concentration in Exercise Science
What memories stand out most from your time at Stanislaus State?
"A lot of my favorite memories at Stanislaus stem from the Athletics Department. I was a four-year student-athlete and I worked with the events staff for the last two years, meaning a lot of my time was spent at school sporting events. I loved being at the different games and getting to work at them as well. It's one thing to be an athlete and to experience the game as a player, but being an audience member is easily just as exciting for me. Being able to take part in these events and witness them happen is probably my favorite memory of Stanislaus."
Which faculty or staff member had the greatest impact on you, and why?
"I had the privilege of working with and being taught by several fantastic faculty and staff members. Of those people, I would say I was most affected by Dr. Arya Alami and Athletic Trainer Elizabeth Melo.
Dr. Alami is an exceptional teacher who has a true passion for his students and what he does. I attended his Motor Learning and Biomechanics classes and loved both of them! He has this unbelievable ability to get through to his students and make his subjects fun, easy to learn and understand, and keep class engaging for every single student. Aside from his evident enjoyment of kinesiology, he was also very realistic with his students, giving us a clear understanding of the long and challenging academic road ahead. He was able to put things in perspective for me and spark passion and determination in my career journey.
Elizabeth Melo is an athletic trainer who I worked with frequently due to several different injuries. She was a very caring and understanding trainer, but someone who also exemplified professionalism. She also gave me a great deal of knowledge and advice about athletic training and kinesiology."
What advice would you give to current and future students?
"If you truly want to succeed you have to find something that you're excited about, something that sparks interest in you and you have to run with it. Stanislaus has many opportunities to take part in, you just have to find one that speaks to you."