Note: This article is part of the StanGrad series highlighting Stanislaus State students who are part of the Class of 2020. Read more StanGrad profiles.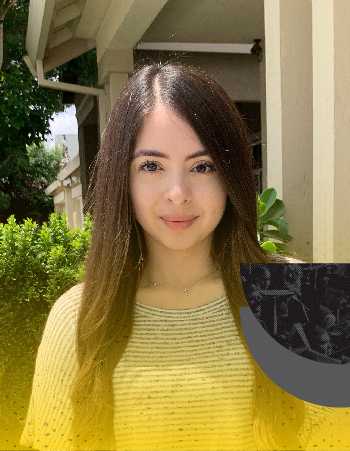 As a first-generation college student, Denisse Gonzalez truly felt alone as she stepped on the Stan State campus for the first time. But, from the time of Freshmen Convocation, she knew she was home.
"I received the message that I was accepted and supported," said Gonzalez, of Delhi, who graduates with a degree in sociology and a 3.95 grade-point average. "As a predominantly Hispanic campus, Stanislaus State was accommodating and made me feel part of the family. More importantly, the faculty and staff encouraged me to be a leader and paved the way for success."
Gonzalez had chosen to attend nearby Stan State in part because of the high number of fellow Hispanic students and because of the low student-to-faculty ratio and the opportunity that provided to connect more closely with her professors.
A good student, Gonzalez didn't know what she wanted to do with her sociology studies, but when Marsha Bond-Nelson, her Student Support Services academic advisor arranged for her to shadow a local middle school dean of students, Gonzalez's path was set.
"This experience helped her focus her last year and a half at Stan State, understand her field of study and know how this is going to help her move forward," Bond-Nelson said. "She went from being a junior not knowing what degree she was moving forward with, to preparing to graduate with honors and focused on where to apply for jobs."
Gonzalez is looking to work with youth with behavioral issues, and has set a goal to return to Stan State to attain a master's degree in counselor education.
"I want to use my Stan State degree to uplift and support our youth in the region," Gonzalez said. "We need to tend to our youth's needs so that they will one day become great leaders. Our world may be plagued with social issues and violence, but it's up to us to help raise and educate resilient young adults.
"Mental health issues have become prevalent in young children which is why I have chosen to become a counselor, to serve as a source of support and guidance. I want to guide youth to develop ways that ensure their well-being and emotional health so they can accomplish their goals."
---
#StanGrad File
Degree/Credential
Bachelor of Arts in Sociology
What memories stand out most from your time at Stanislaus State?
"I will forever cherish the beautiful memories that I created here at Stanislaus State. However, one that stands out is when I had the opportunity to become an inducted member of the NSLS. This was an enriching experience as I was able to come together with fellow students to build leadership skills and to assist each other in reaching our goals. Additionally, I had the privilege of being a student panel member for the Student Support Services program. I was able to share advice with incoming Stan State students. There was no better feeling than welcoming in students and sharing with them what it means to be a Warrior."
Which faculty or staff member had the greatest impact on you, and why?
"One person that had a great positive impact on my college journey is Marsha Bond-Nelson, my Student Support Services counselor. From the time I joined the program, she was eager to guide me and ensure my academic success. She exposed me to many meaningful opportunities, such as shadowing a behavioral counselor at a local middle school. I continuously felt encouraged and motivated to succeed as she always saw the best in me and taught me that anything is possible."
What advice would you give to current and future students?
"I would love current and future students to recognize the importance of persistence and positivity. Regardless of the roadblocks that come your way, don't give up on your aspirations. If you are persistent, you are bound to achieve. Always be persistent in your goals and make sure to be aware of the wonderful resources that the University has to offer."