Note: This article is part of the StanGrad series highlighting Stanislaus State students who are part of the Class of 2017. Read more StanGrad profiles.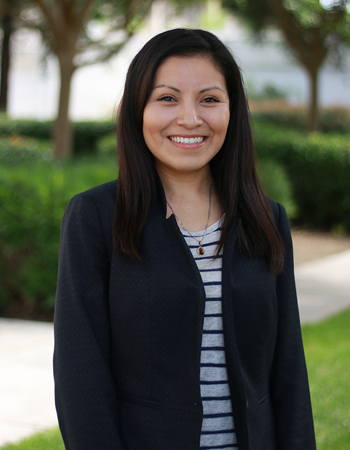 It's always impressive when a student beats the odds by being the first in their family to attend college, and it's nothing short of inspirational when that student is the oldest of six children in a family that is part of California's agricultural workforce.
This spring, Guadalupe Calvillo will be graduating from Stanislaus State with a bachelor's degree in chemistry.
"Since I am a first-generation college student, I wanted to show to my brothers and sisters that they can do even more and that I believe in them," she said. "Coming from a Hispanic family, sometimes my parents were not as supportive of my education as I hoped, but I never stopped. I do not want my brothers and sisters to stop pursuing their dreams."
Calvillo has been working on chemistry research at Stan State since summer 2014, and has fully characterized the electrochemical properties of free base corrole tautomers, which are molecules that have the potential to be used in artificial photosynthetic devices.
Earlier this year, she placed second in Stan State's annual research competition and represented the University at the state competition.
"As a chemistry major, I always had to do my best in every class," she said. "Sometimes, it was difficult because I had to work part-time on the weekends to support myself financially. But this is something I really wanted to do — to graduate with a bachelor's degree in chemistry."
Calvillo has landed an internship to work in the laboratories of Delicato Family Vineyards this fall and has her sights set on graduate school, possibly at UC Merced.
DISPLAY QUOTE: "Never be afraid to ask a professor if they have a research project for you because being involved in research can open many doors for the future".
---
#StanGrad File
Degree/Credential
Bachelor of Science in Chemistry
What memories stand out most from your time at Stanislaus State?
"The memories that stand out from my time at Stanislaus State are meeting my classmates, faculty and staff from the Chemistry Department. I enjoyed being part of this small community because they helped me grow as a student. I will never forget my time doing research for my chemistry advisor. Research helped me to learn useful laboratory techniques that will help me in my future career. Research in poster presentations and competitions also helped me overcome my fear of public speaking."
Which faculty or staff member had the greatest impact on you, and why?
"All the faculty members from the Chemistry Department have been very supportive. However, my research advisor, Dr. Elvin Aleman, gave me the opportunity to do research for the past two years. He also encouraged me to participate in chemistry activities and events such as Science Day and Science Saturday and took the time to help me with my poster and oral presentations for academic events. He has shown me another perspective of chemistry that encourages me to learn more."
What advice would you give to current and future students?
"I would say: Work hard, always do your best and learn as much as you can from the faculty and your classmates. It is important to work as a team with others. Get involved in research and find your passion. Also, never be afraid to ask a professor if they have a research project for you because being involved in research can open many doors in the future."