Note: This article is part of the StanGrad series highlighting Stanislaus State students who will graduate this spring. Read more StanGrad profiles.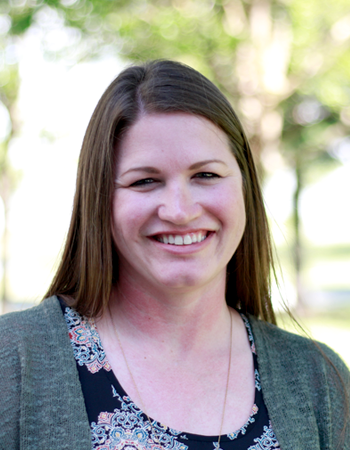 Last fall, only six days before she was scheduled to begin student-teaching, Megan Burkamper was forced to confront a major personal road block.
It was a Tuesday when her husband Von, a cancer survivor, was rushed to Stanford Hospital with bacterial meningitis and placed on life support. After watching her husband — who served with the Marines in Iraq — suffer a series of strokes while at Stanford, and with two very young sons at home, Burkamper had to pause her studies at Stanislaus State.
"It's so hard to keep up with everything," she said. "It's really been tough for us. It's believed that Von may have gone to Iraq with a form of Hodgkin's and was exposed to something there that caused it to mutate to an aggressive form of non-Hodgkin's."
She returned this semester to complete her student-teaching in Atwater and is on target to receive her multi-subject teaching credential this May. Even better news is that Von Burkamper, while still suffering from health issues, is studying at Stan State this spring, completing prerequisites for the credential program to add to the degree in engineering he holds from the University of Kansas.
Megan, 33, is an Atwater High and Chico State graduate, and the daughter of two teachers.
"I think my parents being teachers made me leery to follow that path," she said. "I'd heard all their stories. I resisted, but so many of my jobs involved teaching, it felt natural. After a while it dawned on me that I was resisting the thing I was meant to do."
She signed a letter of intent with the Atwater Elementary School District in January, and after commencement will be eagerly awaiting a job offer. Meanwhile, Von Burkamper has been accepted into the Stan State credential program to continue his strides toward becoming a teacher even as he recovers.
The happy ending to a harrowing journey is within sight for the Burkamper family, which includes Hayden, 5, and Connor, 2.
"I think all students need to keep it in perspective that there's always light at the end of the tunnel, so keep going, even if you have to take time off or complete your work in a non-traditional way," Megan said.
---
#StanGrad File
Degree/Credential
Multiple Subject Teaching Credential
What memories stand out most from your time at Stanislaus State?
"Having my husband Von back in school. It would have been nice to have a class together, but it's great to see him back. I've met a lot of great people going through the credential program and we've shared our experiences and challenges along the way. Going through as a full-time student can be an intense experience, so it's great to have so many people there in the trenches with you."
Which faculty or staff member had the greatest impact on you, and why?
"Dr. (Elmano) Costa's class has been great. He's such a great professor. All of my professors have made a difference for me."
What advice would you give to current and future students?
"Persevere. The challenges you face in school will end up reflecting the challenges you're likely to face outside of school."